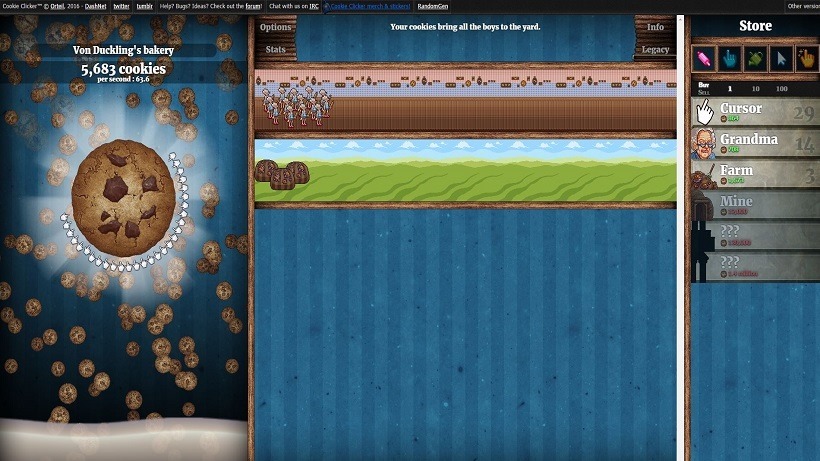 Hey, looks like that's a lot of work you've got there. It would be darn shame if somebody were to distract you with, oh I don't know, a new version of Cookie Clicker or something!
I'll tell you all about it in a second. I just want to upgrade my cursors quick. Oh and my grandmas. Work faster ladies – that dough isn't going to make itself!
Where was I? Oh yes! Version 2.0 of Cookie Clicker is out now, and it's addictive as ever. Seriously, if you have a lot of work to do, I'd recommend hightailing it now before you get pulled into the pit of unproductiveness for the foreseeable future. Don't you dare click this link, or this one, or even this one!
Hang on, I have enough cookies to purchase an entire mine? Hooray! I'm just a few short of upgrading my farms though. Sorry, I know I'm being rude. Please don't go anywhere, I'll be right back. I just need to speed production up with a few hundred clicks or so.
And done! Right. You avoided clicking all the links above, right? Of course you didn't, you fell straight into my trap! I need you to all join me in the addiction that is Cookie Clicker, which has now been upgraded to include the following (via Polygon):
3 new buildings : banks, temples, and wizard towers; these have been added in-between existing buildings and as such, may disrupt some building related achievements
the ascension system has been redone from scratch, with a new heavenly upgrade tree
mysterious new features such as angel-powered offline progression, challenge runs, and a cookie dragon
sounds have been added
heaps of rebalancing and bug fixes
a couple more upgrades and achievements, probably
fresh new options to further customise your cookie-clicking experience
quality-of-life improvements : better bulk-buy, better switches, etc
added some general polish
tons of other little things we can't even remember right now
If you had any plans for getting work today, well, I'm sorry. Embrace the cookies, let them flow!
Last Updated: February 9, 2016