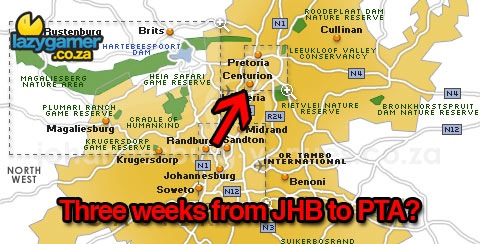 Have you had a red ring of death? Have you had to deal with Powercare lately? If so, has it gone smoothly?
I received an e-mail this morning from a local Xbox 360 owner who had just gone through a major ordeal when trying to get his Xbox 360 swapped out with Powercare. From the looks of things, Powercare were actually really good with their service but the couriers were the ones completely screwing everything up.
So who is actually to blame. I received permission to post up the entire letter, so give it a read and then tell us what your experiences have been.
P.S: Kudos to Bernice from Powercare, seems like she did a great job.
I have kept the author anonymous:
———————————–
At the end of October my Xbox360 starting packing up so I found the details for replacing my Xbox and on Monday morning, 2 November, I phoned Powercare to start the proceedings. I spoke to a wonderful woman, Bernice, who said I needed to fill out a form and it wasn't a problem I had lost my proof of purchase if I didn't mind paying a handling fee. I didn't mind paying and I also paid an extra R250 to have it couriered to me in Pretoria, saving myself a trip to Edenvale in Johannesburg. That same morning I received my authorisation number and confirmed payment and I was informed it would take a week to get it delivered.
Come Friday, 6 November, I phone Powercare and speak to Bernice again to find out the progress of my new Xbox 360. I was informed the courier only picked up my Xbox on Wednesday, 4 November, so I must unfortunately wait a week from that date so I can expect my Xbox by 11 November.
On Wednesday, 11 November, I phone Powercare again and ask what's happened to my Xbox. Bernice said she'd phone the courier and confirm what's happened. She shortly phones me back and says the courier can't find my address and can I please give it again. I email Bernice my address and she phones me back saying she's given the address to the courier who said that they'll deliver my package by Friday.
So today, Friday 13 November, I phone Powercare again to ask where my package is. Bernice says she'll get the courier company to phone me. A lady who's name I couldn't identify phones me and informs me that they might deliver my Xbox next week because all their drivers have already left for the day. She also says they only received the package on the 9th November. Highly irrate I phone Bernice back and she confirms that they picked up the package on the 4 November. I explained that I had paid for a courier service to deliver my xbox and it's now going to take 3 weeks; if I had decided to take a lunchbreak and drive down to Edenvale I could have had my Xbox on the 2 November, the same day I paid for it's replacement. And why if the courier had received it on Monday 9 November does it take more than 5 days to get it on a truck to deliver to me?
While I'm writing this email, the courier has just arrived and delivered my replacement.
I'm SO frustrated. How could they phone me to tell me it's not coming today and then it arrives!
I have just spoken to Bernice and given her the news and informed her that I'm writing to you. Bernice has been SO friendly and responsive that I'm really upset the courier is letting them down. I asked who the courier is and they said it's their repair company in Pretoria. She let me know she's spoken to her manager and will be writing to the repair company in Pretoria.
I hope you'll post this on Lazygamer because it's this courier company that'll give Powercare and the Xbox Replacement process a bad reputation and it's disrespectful to fabulous people like Bernice.
———————————–
Thanks for writing in, we hope that this gets the attention that it deserves and helps sorts things out with the swap-out procedure.
Last Updated: November 13, 2009