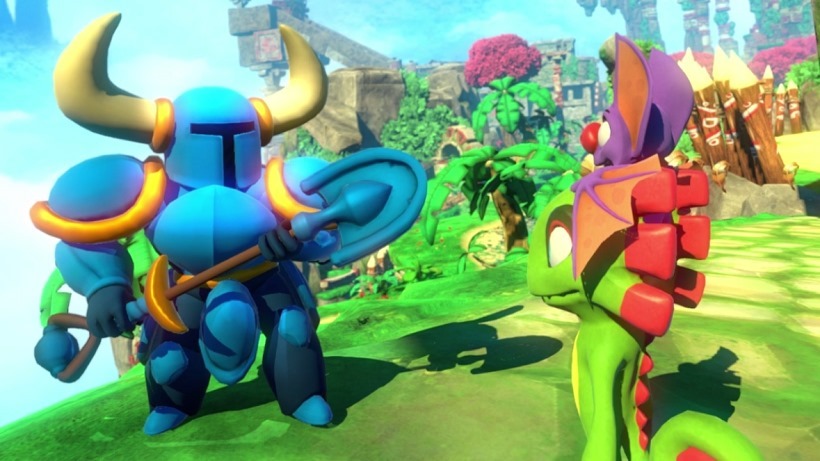 At this point, I think Shovel Knight is becoming known more for his videogame guest appearances instead of his actual own (rather fantastic) game. The blue armoured hero has appeared in numerous other titles already, including the upcoming Bloodstained: Ritual of the Night, Runbow and more. And now you can add colourful Yooka-Laylee to that list, as revealed over the weekend at the London based EGX expo.
Shown off at a panel for the game, Playtonic Games showed off a brand new trailer for their platformer highlighting some of the games main characters. They're all as charming as you'd expect, with some funny puns here and there and some truly nostalgic character design. Nostalgic in the sense that games just don't look like Yooka-Laylee anymore, which is in part why I can't wait to dive straight into a game that would've made my younger self jump out of his skin in excitement.
Well, more so than I am now.
At the end of the trailer though, Shovel Knight was introduced as a special guest character, seemingly getting a little lost on his adventures. The inclusion came about through a deal between Playtonic and Shovel knight creators Yacht Games, with the former approaching them to ask for the favour. As history will show, Yacht Games has no issues with shovelling (heh) around their character to new titles. And why would they – it's basically turning their character into some sort of indie gaming hero at this point.
Yooka-Laylee itself is looking as marvellous as always, as Playtonic use the extra time to get their highly anticipated platformer ready for release in early 2017. So far there's been little bad to say about it, as it aims to bring classic platforming and more playful characters back to your PC and console of choice. I quite frankly can't wait.
Last Updated: September 26, 2016