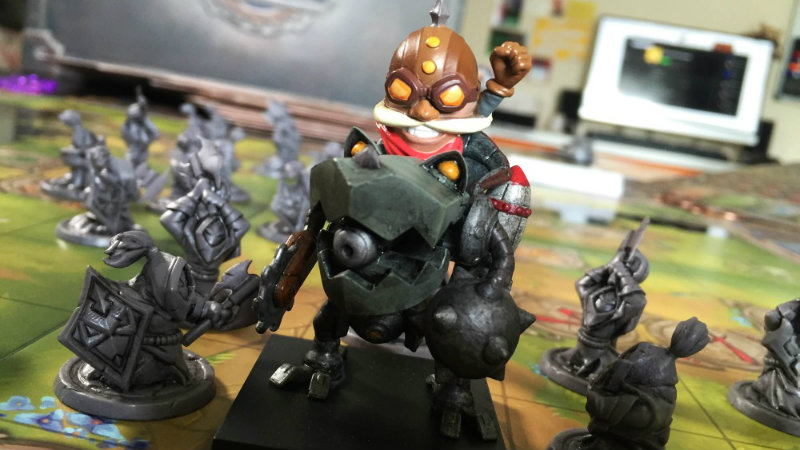 I love board games. In fact, my collection of tabletop gaming experiences seems to be ever growing as I enjoy playing them with gamer and non-gamer friends alike. There's something about the friendly competition, trivia or all-out-absurdity that's just so much fun. Plus, any game that I can play while eating and drinking with friends is always a plus. League of Legends has always been about cooperative and competitive gameplay with a team, but now it has extended into the world of board games.
Mechs vs Minions is a new game in the League of Legends universe, and it looks pretty cool. Here is the announcement video:
So what is it, exactly? Well according to the site FAQs, "Mechs vs Minions is a fully cooperative tabletop game for 2-4 players. Using programmatic movement from a shared draft, teammates will grow in power as they face off against armies of marauding minions." There is even a story:
Rumble has invited Heimerdinger, Tristana, Corki, and Ziggs to his soon-to-be-mega-prestigious school. Without giving away too much, things quickly go sideways, and the Yordles are forced to work together to fight off the minion menace. Each mission is unique—with different challenges and objectives—as you fight through the story-driven campaign.
Sounds pretty intriguing, although the game itself looks mighty complicated, too. Plus it sounds like it will take a while to complete each mission:
There are ten missions in total, and each individual mission will take about 60-90 minutes.
Geez, playing this game from start to finish sounds like it would give Monopoly a run for its money. I like the idea, and I'm sure plenty of fans will jump on board, but I think I'll probably have to wait for someone else to get this first – just figuring out the rule book will take me hours and I prefer pick up and play board games as a general rule. Still, those little figurines look pretty cool… Maybe I should add this to my collection. We could probably get through a few missions while making a potjie.
Last Updated: September 20, 2016