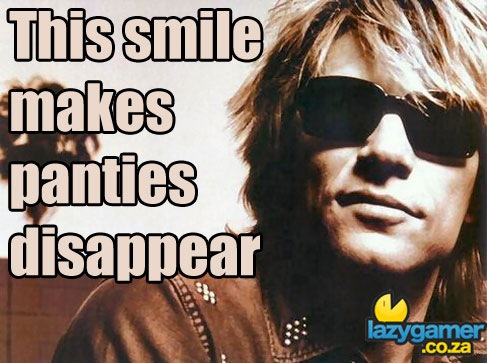 While the furore over Kurt Cobain's tawdry appearance in Guitar Hero 5 continues, Courtney Love has found an ally in New Jersey's most famous cheesy sentimental hair-rocker with a panty-melting smile, Jon Bon Jovi.
"To hear someone else's voice coming out of a cartoon version of me? I don't know. It sounds a little forced," the Bon Jovi frontman told the BBC.
The bleeding Romeo (who incidentally will love you, baby – always) was approached by Activision to appear in the game too, but politely declined.
"I had the paperwork, they wanted me to be on that game and I just passed," he said.

"But no-one even broached the subject with me that I would be singing other people's stuff. I don't know how I would have reacted to that. I don't know that I would have wanted it either."
Maybe Courtney Love has a case with her claims of "breach of contract," and Bon Jovi can help give Love a good name.
Last Updated: September 17, 2009