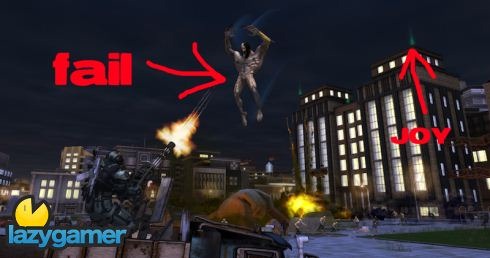 The lucky journalists at TGS have been given some screenshots of the upcoming Crackdown 2 which was my most anticipated game of 2010 before I saw the screenshots.
Being a seasoned Crackdown player the first thing I noticed was that beautiful Orb floating high up on the top of that building… the little smudge marked as joy.
However I then noticed the obscene leaping zombie/monster thing, as marked by fail… What the hell is that?
If I wanted zombies I would have put in Resident Evil 5 (now with motion sensing on the PS3) or the upcoming Left 4 Dead 2, however I don't want to put in my Crackdown disk.
I remain more than a little sceptical of this idea of adding zombies into Crackdown and I really hope they know what they are doing.
For more screenshots and bigger orbs click through to Destructoid and check them out.
Source: Destructoid
Last Updated: September 24, 2009