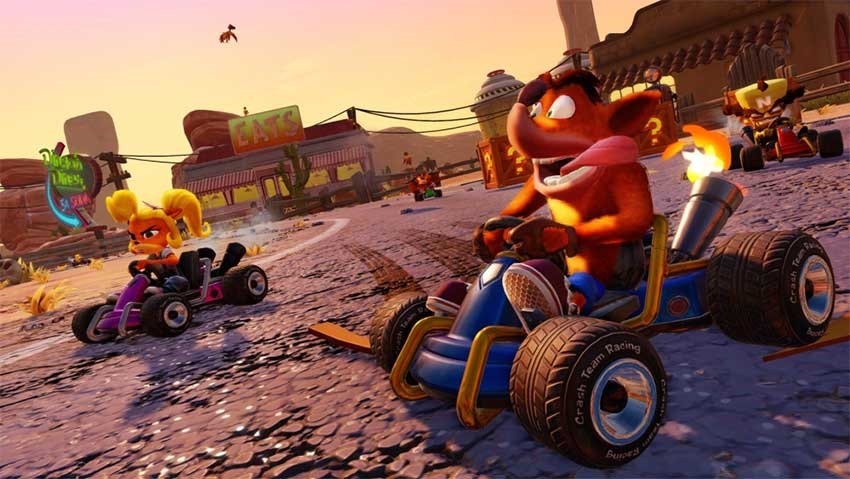 It was rumoured and hinted at before the Game Awards, and now it's official. Crash Bandicoot himself took the stage to reveal that Crash Team Racing is indeed being remastered.
Crash Team Racing Nitro-Fueled is being "built from the ground up," so it's more a remake than a remaster of Naughty Dog's 1999 kart racing game. It's coming to PlayStation 4, Switch and Xbox One in June. While Activision tagged Vicarious Visions for the N Sane Trilogy and Toys for Bob for Spyro, this remake is being done by former Spider-Man studio Beenox.
It'll bring with it all of the game's original modes – Adventure, Arcade, Versus, Battle, and Time Trial – along with online play.
While some may call Crash Team Racing an unashamed Mario Kart clone, it actually does some stuff better than the kart-racing granddaddy. It has a wonderful single-player adventure mode (which makes it more of a Diddy Kong Racing clone, but I digress), and is a blast to play. Its biggest fault is that the characters from the Crash universe just aren't anywhere near as endearing as Mario and his Mushroom Kingdom friends. That hardly matters though, as Crash Team Racing Nitro-Fueled won't be stuck on a single platform, giving more people the chance to play an outstanding kart racer.
Last Updated: December 10, 2018