Last year we offered extensive coverage of the ongoing drama which involved a number of CS:GO skin gambling sites. Eventually, they all got taken down, but that didn't stop certain arms of the law from making sure these perpetrators faced due justice. CSGO Lotto, a company owned by Trevor "TmarTn" Martin and Tom "ProSyndicate" Cassel was easily one of the biggest stories at the time and led to a lot of drama unfolding regarding the gambling saga.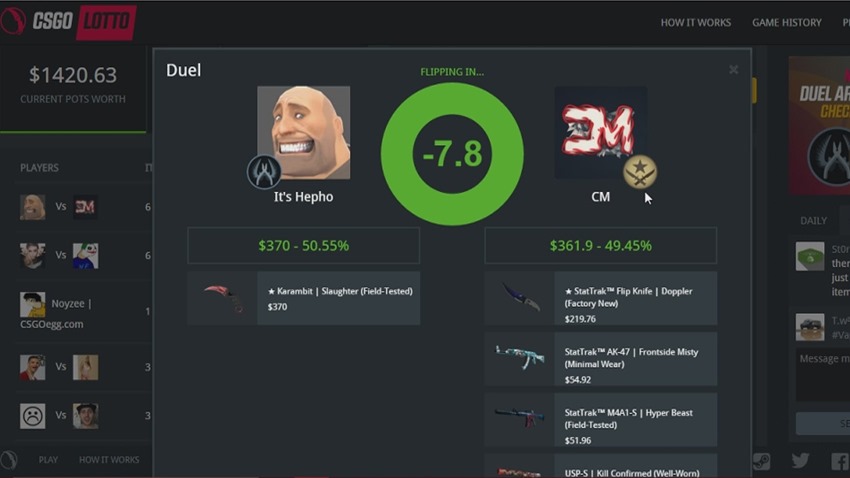 The two owners have finally settled all charges with the Federal Trade Commission (FTC) in the United States in a "first of its kind" order targeting "social media influencers" and the shady stuff they've been pulling for years. The new order (not named Order 66unfortunatelyy) is aimed at social media personalities who use their following to promote their businesses, as TmarTn and ProSyndicate did with their CSGO Lotto website which they benefitted from financially. (via TEO)
"The Commission order settling the charges requires Martin and Cassell to clearly and conspicuously disclose any material connections with an endorser or between an endorser and any promoted product or service," states the FTC order. "Also today, the FTC announced that staff has both sent warning letters to 21 social media influencers it contacted earlier this year regarding their Instagram posts, and updated staff guidance for social media influencers and endorsers."
What this means is that any social influencer promoting a business need to disclose their connections with the services. Whether it's their own company, or someone else's, they need to make it clear. This applies to getting other people to help promote their business too. It all needs to be transparent and disclosed properly or they could face a civil penalty. These are applied in new changes to the FTC's endorsement guidelines, with the specific addition of social media and promotions within social media posts.
"The new information covers a range of topics, including tags in pictures, Instagram disclosures, Snapchat disclosures, obligations of foreign influencers, disclosure of free travel, whether a disclosure must be at the beginning of a post, and the adequacy of various disclosures like '#ambassador.'"
Many expected a much higher penalty for both Martin and Cassell, but because no guidelines existed prior to the case they couldn't face the full force of the law and thus walked away with a slight slap on the wrists. It's unfortunate, because they essentially misled their fans, but at the end of the day we now have a clear ruling on these "social media celebrities" who have used their massive fanbase to promote and sell their own products and businesses in the past.
Like esports?
Check out esports central
Last Updated: September 12, 2017