When you think multiversal theory, you either remember Jet Li's criminally underrated movie The One or DC's habit of regularly using parallel universe to tell mental stories that happen to plug a few of the gaps present in their continuity. But if there's one common factor present on any Earth, it's a love of fried chicken that usually leaves your bowels in tatters if you order the Zinger Wing meal for lunch.
Because in DC Comic's KFC: The Colonel Corps, not only is Colonel Sanders still alive but he happens to be kicking all manner of ass on multiple Earths. That's the idea behind KFC: Colonel Corps as the good Colonel faces his greatest challenge yet as he happens to have forgotten all but one of the ingredients in his famous 11 secret herbs and spices recipe used to create his iconic chicken.
And it only gets weirder from there. Because somebody is pinching that knowledge from a multiverse of Colonel Sanders to recreate the recipe. It's up to the original flavour Colonel to unite with ten other dopplegangers and recover his recipe. Dopplegangers that include: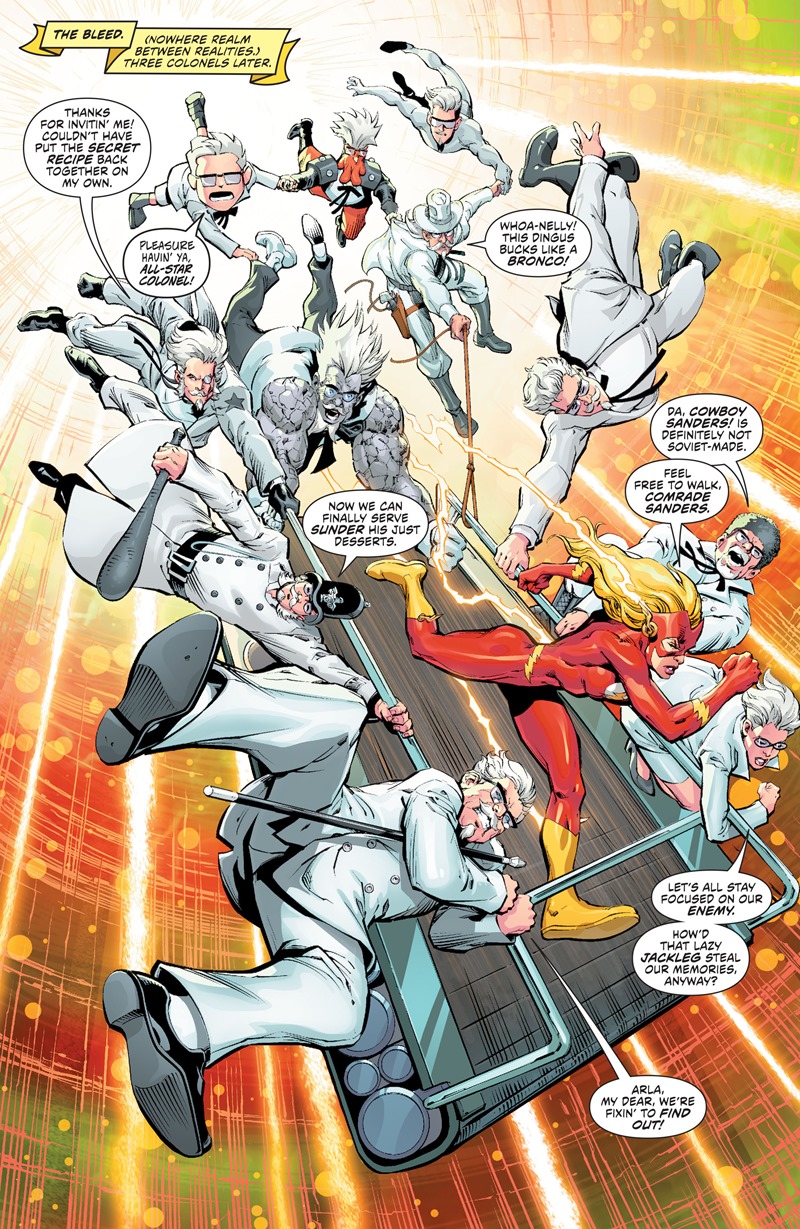 Hardcase Harland – an officer in the reality of Gotham by Gaslight who bludgeons criminals with a chicken drumstick of iron.
Colonel Arla Sanders – A female doppleganger from Earth-11.
Koln-el – The Kryptonian colonel from the Kingdom Come reality.
Kolonel – An actual chicken from Earth 51 who survived the great disaster of the Kamandi era and serves his species to locals.
Teen Colonel  – A tiny colonel from the Teen Titans Go universe.
Colonel Lad –  KFC survives in the 31st century thanks to this descendent of the Colonel descendant.
Bizzarro Sanders – …I'm properly speechless.
And a few more others who didn't get their own page like All-Star Colonel, Cowboy Sanders and Comrade Sanders. And the insanity continues as the KFC Colonel Corps faces evil twin Colonel Sunders and Colonel Grodd. Proper, wonderful madness designed to shill KFC products to the max. But wonderfully written by Tony Bedard who takes the idea and runs all the way with it to a logical conclusion. And that crisp art from Tom Derenick actually makes me want to eat the comic itself.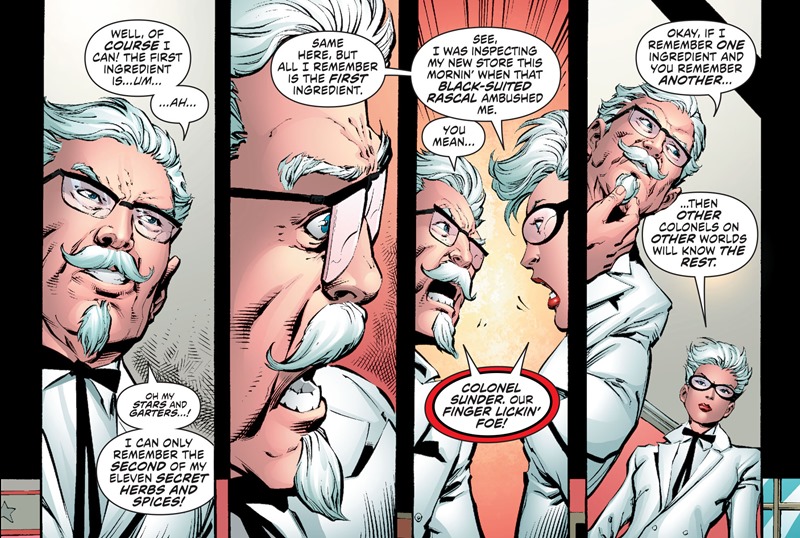 Even better, it's actually a free comic on Comixology right now, so take a gander if you can handle it. This just might be my favourite comic of the year, for all the wrong reasons.
Last Updated: July 6, 2016