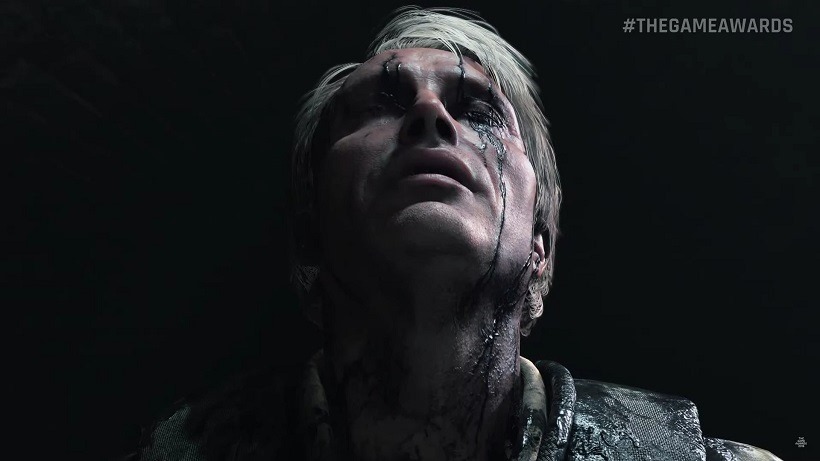 For a game which only settled on an engine a few months ago, we've sure seen a lot (I think) of Hideo Kojima's first independent game, Death Stranding. Revealed at E3 with an unforgettable and bizarre trailer featuring The Walking Dead's Norman Reedus, Death Stranding maintained a high bar for quality acting in its second showing. And now with two more faces you're likely to recognise.
I think given all the teasing it was certain that Mads Mikkelsen (arguably the best Hannibal Lecter, and recently in Doctor Strange) would make an appearance of some kind, and he didn't disappoint. There's something captivating about the facial technology on show here, which was apparently all running in real-time on a PS4 Pro. The trailer itself was delightfully grotesque and about as weird as you'd hope a Hideo Kojima game would be. And that's looking past the possibility of director Guillemot Del Toro being a new character within it (we're getting Silent Hills sort of).
The trailer came after host Geoff Keighley kicked off the show with an emotional speech that culminated in the presentation of an award Hideo Kojima was infamously restricted from receiving last year, after his messy breakup with Konami was drawn out over the end of the year. Kojima looked like a different man receiving the award, and I think everyone in attendance would agree that his solo ventures look to be maintaining the standard of games Konami might have been holding back.
Death Stranding still doesn't have any real gameplay details, a release date or anything really else too it, but we've seen it twice now in just a few month. Don't expect that to change for the next couple of years.
Last Updated: December 2, 2016