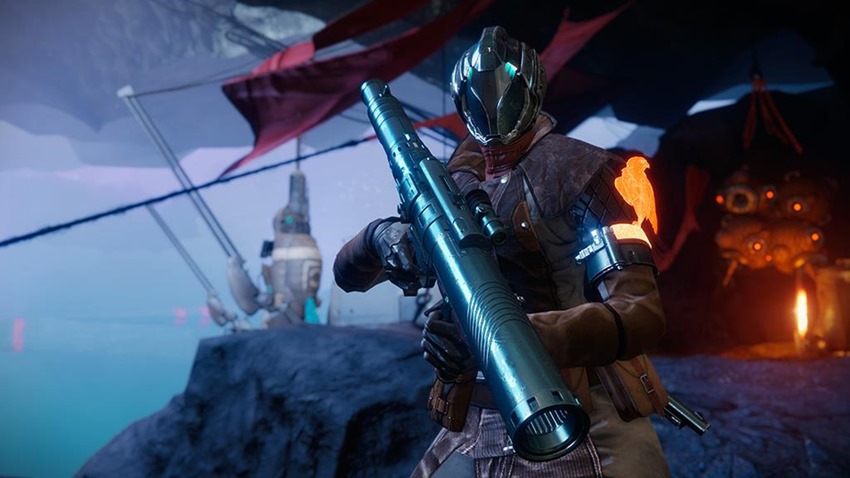 The House of Wolves had the Prison of Elders. The Taken King had the Court of Oryx. What does Destiny 2 have for the Guardian who wants not only some tight arena-based combat, but also a little of the ol' PVP thrown into the mix? Gambit, that's what. One of the key new features of September's Forsaken expansion, Gambit is very likely going to be the mode to jam around in, as it combines features from Destiny's best PVE and PVP organs into a tight bout of teamwork and competition.
It's a heck of a lot of fun, something that I had a blast with during E3 this year, but what's the real drive here? What's going to keep players risking their digital necks out in that new lawless frontier? Some sweet-ass loot of course. Over on the Bungie blog, the studio revealed how players will rank up in Gambit, similar to how the Crucible uses Valor and Glory ranks with which to gauge progress and award loot engrams.
It's Infamy that Guardians will earn in Gambit, with several ranks available to blast through. Win, and you get more points towards your next Infamy rank. Lose, and it'll be a trickle of experience that gets splashed on your climb to the top. "We've designed Infamy ranks to be more granular by splitting most of the familiar ranks into three tiers," Test Lead Sam Dunn said on the Bungie blog.

This will allow players to work toward shorter-term goals that are achievable in a few play sessions, rather than over many weeks. It also gives us more opportunities to grant rewards. The Guardian, Brave, Heroic, Fabled, and Mythic ranks will all have three tiers. The Legend rank will remain as one solid chunk.

Apart from this major change, Infamy ranks will function very much like Valor ranks:
Each rank will require more Infamy points to complete than the last
Win streaks award bonus points
Your win streak caps at 5 and doesn't get reset until you lose a match
Your win streak won't be reset if you join a match in progress
Much like the Crucible and Zavala's Strike protocols, you can also expect Bounties to factor into Gambit, which will push Guardians to attack with certain goals in mind. "In addition to completing matches, you can also earn Infamy by completing Gambit bounties," Dunn explained.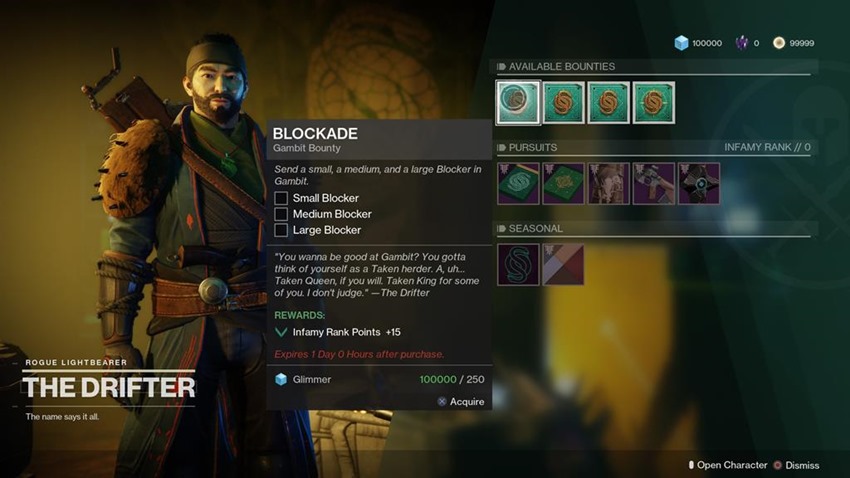 Each day, the Drifter will have a selection of daily bounties available for sale that will award Infamy points, as well as other rewards. He'll also sell a special weekly bounty once you reach Level 50. The weekly bounty will award a large number of Infamy points and a piece of powerful gear. This allows you to always be making progress toward Legend, no matter what your short-term goals are.
In the immortal words of that one random character from an old episode of The Simpsons, WHEN DO WE GET THE FREAKIN' GUNS?!
Simple: Climb the ranks, earn the loot. Or pray to RNGesus for a good drop, but expect to see some exclusive gear made available to Guardians who survive the Drifter's Gambit obstacle course.
Last Updated: August 17, 2018