So what's the current state of Destiny 2? After a stellar launch, Bungie's grand saga of cosmic dungeon's 'n Ahamkara dragons has quickly fallen back into old habits. The endgame is lacking, while the first expansion for Destiny 2 has proven to be a bigger disappointment than a glimpse of overcast weather in Cape Town.
Maybe our expectations are a bit too high for what we want out of Destiny 2, but when your first slice of DLC echoes the fumbles of mistakes made in the past then some concern is warranted. Still, if Destiny could salvage its player-base after the kerfluffle that was The Dark Below when it activated The House of Wolves in expansion deux then maybe there may be some hope for Destiny 2 to make the right repeat.
What's on the horizon then? Here's the latest rumour that might require you to wield a 335 salt canister. According to a single screenshot spotted on Destiny Raid Secrets Reddit via Shack News, Destiny 2 will feature a journey back to Mars. Wondering what happened to that Rasputin-centric expansion that was supposed to follow in the footsteps of the Curse of Osiris?
According to the screenshot which may or may not be fake, the elusive Warmind will find itself imprisoned in the Vale on Mars as a new threat rears its high-level bullet-sponge head: Charlemagne. Another warmind of the Golden Age, Charlemagne was meant to appear in Destiny but those plans were scrapped and the sole mention of the character came from a dead Ghost in the Dust Palace that referenced the "Warmind of Mars".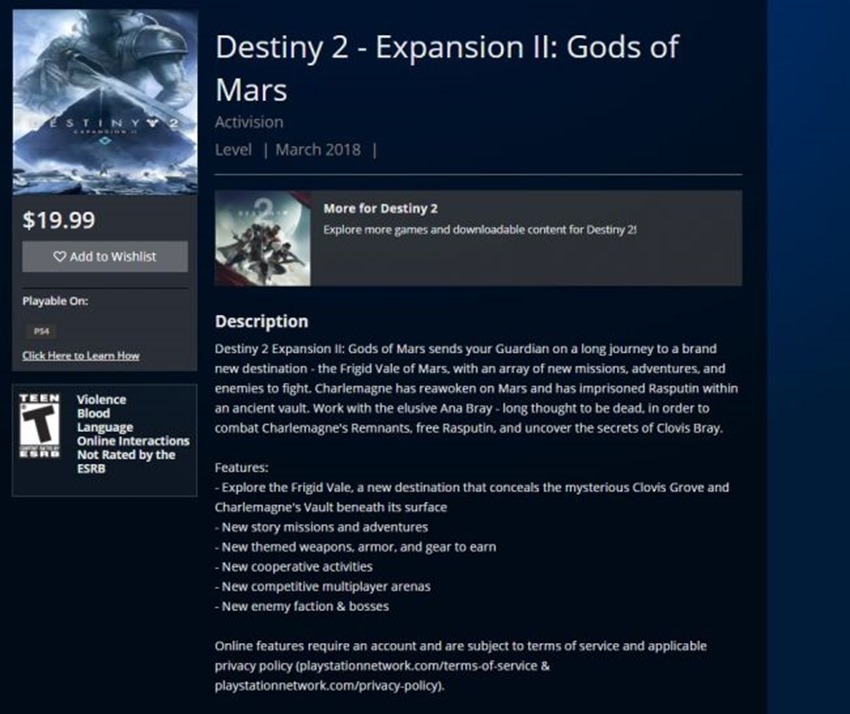 In The Taken King, another clue was uncovered when players uncovered a Warmind upgrade node that had the initials "CHLM" embedded in it. Food for thought, isn't it? Still, I'm remaining skeptical on this one. Destiny 2's second expansion is most likely also a long ways away, as it'll presumably only launch in May. That would line up with previous expansion releases from the first Destiny, although any content between then and now would be preferable.
The Dawning was a nice diversion, but its entire idea of handing out gifts on a daily basis for neat rewards fell flat thanks to those gifts often requiring a silly amount of obtuse grinding. You ever try finding Phaseglass on Io when you're not playing as a Hunter? It's stupidly difficult. Hopefully, the future of Destiny 2 is something a bit more substantial. Otherwise, the rumour above looks phonier than my Holden Caulfield Instagram filters.
Last Updated: January 8, 2018