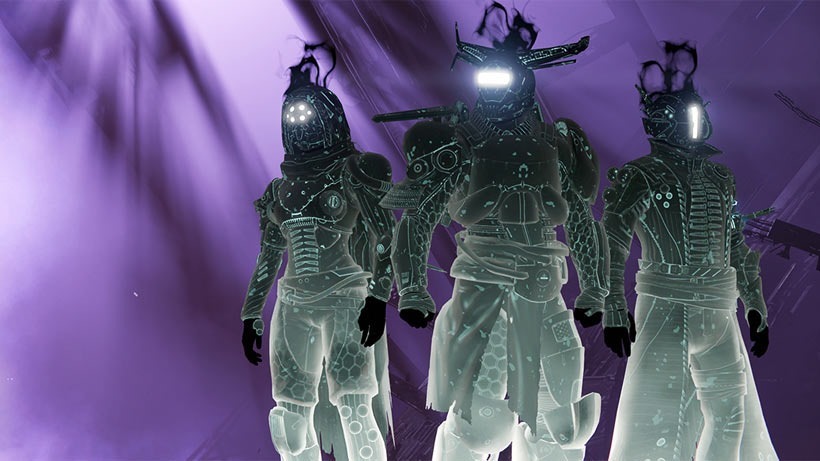 It's a bit quiet right now in the world of Destiny. After all, there's only so many times that you can kill a titanic space-Satan and send its corpse hurtling off into the cold dark vacuum of space. It's a double-edged sword right now in Destiny. Players want more content to take part in, but said content takes time to produce.
Player versus Enemy content has been at the top of that list for ages now. While Crimson Days and the Sparrow Racing League were fascinating ideas, they didn't hold much interest beyond a few days and were culled off later anyway. Developer Bungie took to their blog to announce some new stuff on the way in April however.
The big April update that'll be here on the twelfth of the next month will throw in new PVE challenges, newer gear and a new quest on the Blighted Chalice Strike to start off with. Players will also be able to increase their Light level further, while the sandbox and Crucible will also be tweaked. To cap the tease off, Bungie also showed a picture of their trademark Guardians decked out in a new shader that makes them look like Liam Neeson's worst nightmare: Taken.
Bungie says that they'll be streaming a trinity of videos over on Twitch every Wednesday until the new patch is introduced. Here's the official schedule:
April Update Preview: New Things to Do
Wednesday, March 23 at 11 AM Pacific
April Update Preview: New Things to Earn
Wednesday, March 30 at 11 AM Pacific
April Update Preview: Sandbox and Crucible Updates
Wednesday, April 6 at 11 AM Pacific
It's been strange watching the current exodus of players from Destiny lately. But I get that. I get that you all want something new to tinker around in, and with The Division scratching that very particular itch, it's going to be an uphill battle to bring fans back and keep them around for another long run. Still, more Destiny content is never, ever a bad thing. Now give us a Xur who actually sells worthwhile gear so that Fridays can be something to look forward to.
Last Updated: March 18, 2016