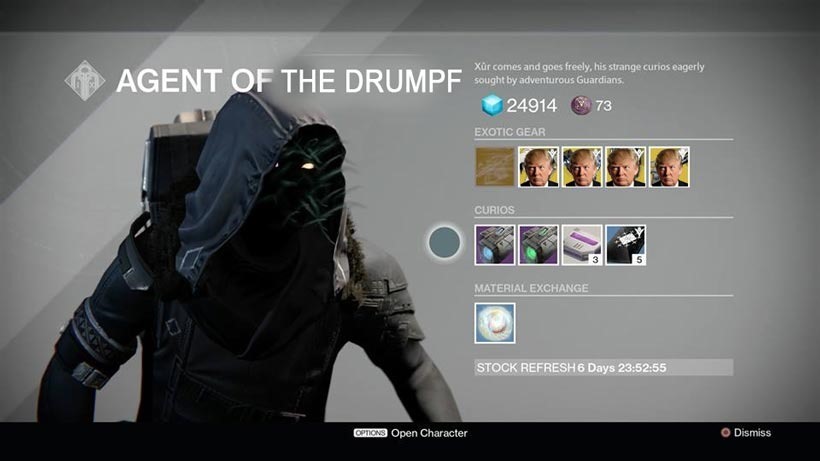 First of all, I'd like to talk about this Xur. It's gun merchants like him, who are keeping weapons out of the hands of hard-working Guardians who were born in the Tower. Guardians who risk their lives every day to not die and be remembered as a second-place loser. Now I've got a lot of influence with the Agents of the Nine, but if it were up to me, I'd build a wall around Jupiter's moons to keep them away from Earth.
Just like those intergalactic scum who come here and steal all our engrams, like the Fallen and the Cabal, we need to make Earth great again. And charge them for the construction of this new exclusion zone. Now most space-gods already list me as an end-raid boss, so believe me when I tell you that once I'm in charge, I'll start charging fewer Strange Coins for exotic weapons.
Weapons made right here in the Tower! And you can look that up. You can find the border-jumper in the Tower, in the bar under the hangar.
Now I'm not saying that my Destiny application doesn't work, it does and it does so beautifully, but here's what that shifty Xur has for sale this week:
An Insurmountable Skullfort – Titan Helmet – 13 Strange Coins
Achlyophage Symbiote – Hunter Helmet – 13 Strange Coins
Heart of the Praxic Fire – Warlock armour – 13 Strange Coins
Legacy Engram – Helmet Engram – 19 Strange Coins
Exotic Engram – Helmet Engram – 29 Strange Coins
Three of Coins – 7 Strange Coins
You've got until 9AM GMT on Sunday morning to earn some Strange Coins. And you can quote me on that. Remember, Strange Coins are much easier to get your hands on lately. Just do a few daily bounties, decode a few engrams and you'll have more than enough for when Xur arrives on Friday. And for the Traveller's sake, stop talking so loud already.
Last Updated: March 11, 2016