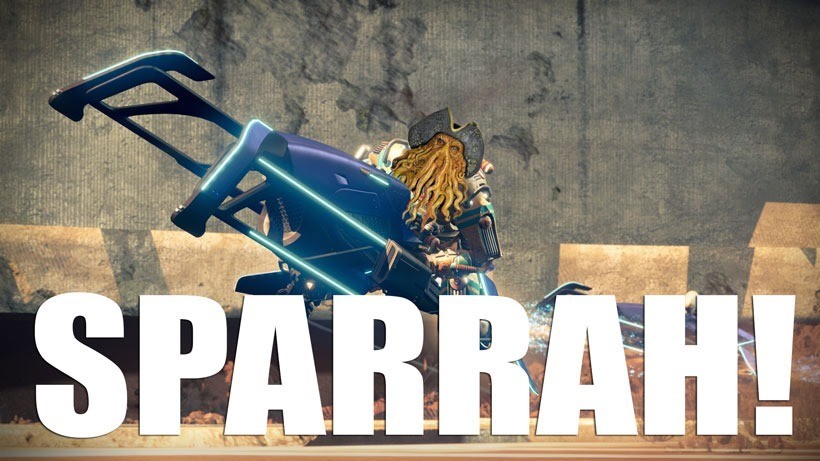 Destiny is many game genres, all loosely held together by the superglue of some superb gunplay. It's equal parts RPG, MMO and obsessive-compulsive shoot 'n loot, but it'll be adding another genre to the checklist today when the Sparrow Racing League kicks off. Naturally, there'll be prizes up for grabs. Guns! Armour! Wacky races!
It's not just about being the fastest on the track, but also earning some nifty end-game loot that has been levelled up to the maximum light level of 320. For those of us who haven't been able to infuse our gear with such legendary qualities, that's a big leap forward in terms of prizes. And while Bungie is particularly adamant that you won;t be buying such gear but rather earning it off and on the track, there will of course be plenty of items to spend actual cash on when you visit the Eververse Trading Company.
Here's a list from Bungie, which includes gear that has a mammoth light level rating of five. I mean three.
New emotes to celebrate the thrill of speed and competition
ToolKits that include stylish (but equally fast) Sparrows
ToolKits that include Horns to let you signal your approach
A new Record Book to provide more challenge and reward
Complete challenges to earn vanity gear with 3 Light
Collect an exclusive emblem and a shader
Commemorate your SRL stats after the event is over
SRL Helmets and Class Items acquired via the Record Book can be Infused to immortalize your status as a racing champion!
So mostly just vanity stuff then. How does one even get started in the Sparrow Racing League then? You'll need to visit your shipwright, Amanda Holliday, who'll get you started on a new quest:
Obtain your SRL Licence Quest and SRL Bounties
Earn a new Sparrow as part of the SRL Quest
Upgrade your reputation by completing SRL Bounties
Each Race is a chance to earn SRL gear and Shaders
The higher your reputation, the better the post-game drops
Helmets and Class Items can drop with up to 320 Light
Helmets and Class Items with Light can be used for Infusion
All other SRL gear has no Light, but features racing perks
Sounds good! The actual Sparrow Racing League content may be limited to just two tracks, but the core gameplay looks surprisingly solid. Especially if you drive like a lunatic and attempt to murder the other five racers on the track. It's just like that time when I crashed my car, and all the tow-truck operators in the area descended on me, resembling buzzards on steroids with terrible haircuts and Bad Boy clothing.
Last Updated: December 8, 2015