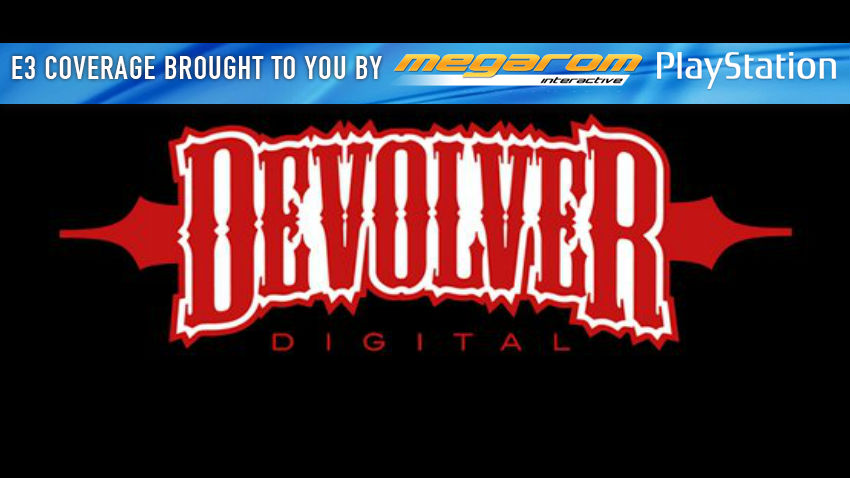 Devolver is an indie publishing house that also does things a little differently at E3. They generally camp out in the parking lot across from the LA Convention Center, showing off tons of games to adoring fans. They help small indies get their games out to the masses and are a really fun company who typically send out the best press releases. But their E3 conference is something all together different.
It's only 15 minutes long, so you can watch it for yourself. Basically, they showed off some gameplay for Ruiner that you can watch here:
As well as Serious Sam's Bogus Detour:
And then there was a weird fake reveal from Suda 51…
But mainly the spent their entire conference poking fun at the ridiculousness of E3. With the usual silly staging, odd overly enthusiastic presenters, references to even earlier access and funny indie T-Shirts, this thing is basically a psychedelic trip of note. If you need some silliness on a Monday, or just to stop wondering about the real news out of E3, just watch this bizarre and hilarious press conference.
On a side note, there's a South African developer on site in LA with Devolver. The team behind Semblance, that cool game I told you about last year, is actually in LA. They will be showing off Semblance in the car park I mentioned above. Well done to them for partnering with Devolver. It's great that South Africans will be showcased at E3 again.
It feels like so many publishers have already done their press conferences, but there are still a bunch to look forward to. We still have the PC Gaming Show, Ubisoft's press conference, Sony's Playstation Press Conference and the usual Nintendo Direct silliness. If you're wondering when the showcases are live, you can check out all the details here. I will be remembering the Devolver one, though, and laughing at all the E3 tropes.
Need more E3 in your life?
Check out our E3 2017 portal powered by Megarom Games and PlayStation
Last Updated: June 12, 2017