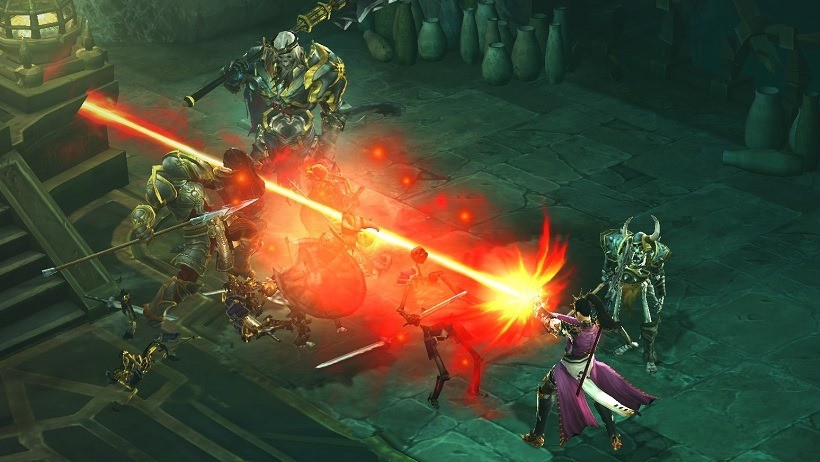 With Diablo III, Blizzard has been riding a second wind. It's a game that has changed in incredible ways since original launch, and one that Blizzard have managed to keep interesting for invested, long-time players rather successfully. There are still some niggling issues with the endgame though, and that's what this latest, massive patch is directly addressing.
Before getting down to it, Patch 2.4.0 is going to introduce one brand new area, and expand on two more existing ones. GreyHollow Island will be a new zone for players to explore, holding all sorts of dangers to doom you to your end. It's available exclusively in Adventure Mode however. Adventure Mode will also expand thanks to additions to The Royal Quarters and The Eternal Woods, which are both getting a little bigger thanks to the patch.
The real meat of the content is reserved for dedicated, late-game players though. This starts with a reworking of class sets, with Blizzard revisiting all 24 of them. Some are seeing only minor changes, while others will receive complete overhauls to tie into some of the other new features that patch is introducing. Thorns of the Invoker and Shadow's Mantle are two items that Blizzard have confirmed as being built from scratch again.
These class sets will come in handy for new Set Dungeons, which will only open up once you've completed a particular class set. These dungeons are set and not random at all, letting you plan out your strategy in advance. That helps too – as Blizzard teases that they're going to be tough challenges for cosmetic rewards. The rewards scale with mastery though, and there's something special waiting for players who finish all 24 of them.
Also new to the endgame are Empowered Rifts, which finally give Diablo III millionaires a place to spend all their gold. You can now Empower a Greater Rift with gold, increasing the chances of Legendary Gem drops up to four. Each Greater Rift has a different Empowerment cost to it, but it's a neat way to keep lucrative players actually progressing.
There're other smaller changes too like new Legendary Items and revised UI elements, all of which can be seen in the Patch overview right here. Patch 2.4.0 is expected to arrive on the public test realm, and hopefully soon after for everyone else. Again, Blizzard is catering to the truly faithful here, and it's a strategy many other games of this kind should learn from.
Last Updated: November 12, 2015