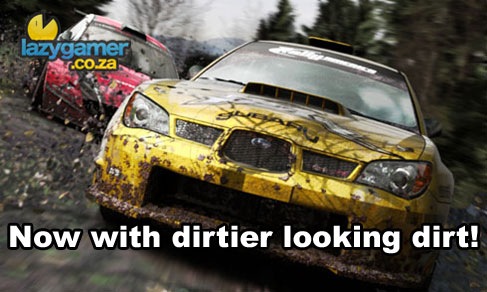 Codemasters have announced, via press release, that the first posthumous Colin McRae game, DiRT 2 will be hitting PCs a little later than expected. "Why?", I hear you ask with trepidation in your voice. Well, it seems the developers have become enamoured with Direct X 11 – the new API that's set to launch along side Windows 7 – and will be incorporating the technology in to its off-road racer. I could make jokes about Colin McRae and dirt, but I'm classier than that.
What does the wait mean PC gamers? Primarily, it means you're going to have a much prettier game than your console-toting brethren , who'll be getting the game in September as originally scheduled. Water effects, crowd animations and shadows are expected to be vastly superior, thanks to Shader model 5.0 and hardware tessellation (whatever the heck THAT means)
"We believe that the DirectX 11 feature set is too compelling to ignore, especially considering how much more it can add to the visual experience for PC gamers," said Bryan Marshall, Codemasters' chief technical officer. "The fusion of DirectX 11 with Codemasters' EGO Engine will raise the technical bar considerably in the racing genre."
Neat. Any of you excited for DirectX 11?
Last Updated: July 7, 2009