In other news that you may have missed out on, Star Wars is big again. Like really, really big. Right now, the seventh Star Wars film has chalked up worldwide sales of over $1.5 billion worldwide in movie tickets. That's a lot of money, and something which will most likely be eclipsed by an even more powerful force in the future: Moichendising!
Toys have already flown off the shelves, with one particular numpty that I know of having spent a ludicrous sum on a replica lightsaber. Wait, I'm looking in the mirror. Yes, I have no impulse control when it comes to merch. Anyway, Disney Infinity has had a fantastic year thanks to the Star Wars brand. We've seen old and prequel trilogies covered, making a Force Awakens playset inevitable.
While that playset isn't much to write home about, the figures available however, are a completely different story.
Rey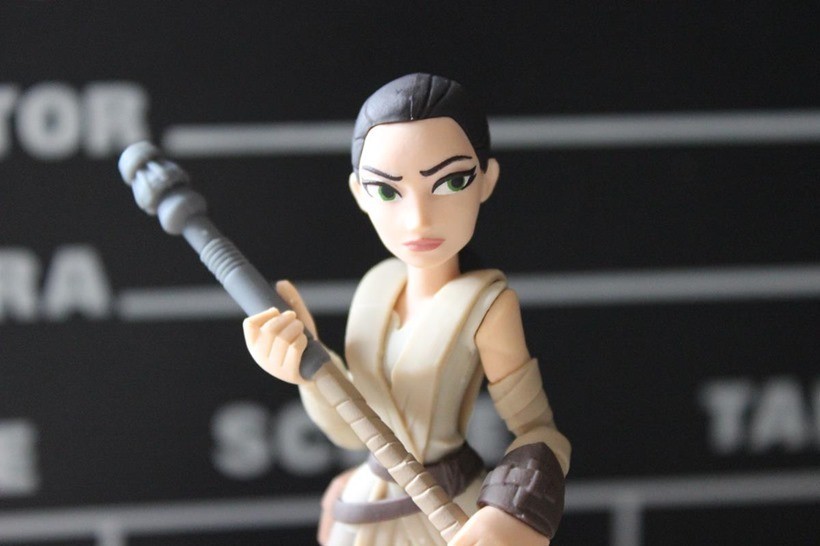 I don't think there's a single person out there who doesn't like Daisy Ridley's star-turning performance as the outcast Rey in Star Wars: The Force Awakens. Along with John Boyega's Finn, Rey carried the hopes and dreams of a new Star Wars era on her shoulders. And hell, she didn't just carry them, she ran with them and delivered an Oscar-worthy performance as the face of a new generation.
And I get why Rey is so popular, why audiences love her. She's strong and human. She's a survivor, able to fend for herself without sounding like an annoying cliché in the process. She's a great character, and it shows in her Infinity figure.She may be dwarfed by the Darth Vader and Zebb figures, but she exudes an aura of strength that makes up for it.
And once again, it's the little details that make all the difference. Her clothing is semi-rigid, but film-accurate. Her staff houses all the components that you'd need to survive a few years on Jakku with, her hairstyle features a top, middle and bottom tail and the pose she strikes just oozes pure confidence. In Disney Infinity 3.0, she's also a massive ass-kicker of note.
As a melee fighter primarily, Rey pulls off attacks with her staff that'd make Darth Maul jealous. She's easily one of the best crowd control characters around, with a super-ability that can deal heavy damage to a single enemy. Toss in some decent long-range blaster attacks, and the Force is strong with the the breakout star of Disney's latest money-making franchise.
Finn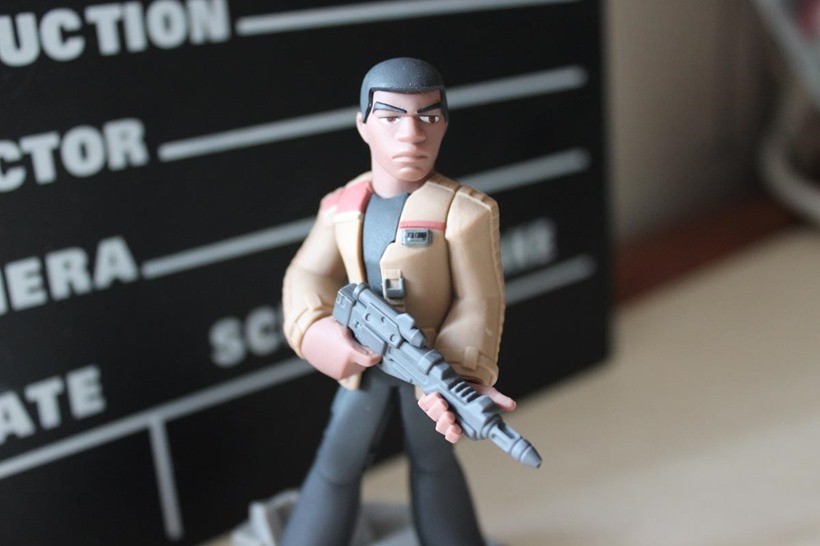 I think what made Finn such a great character in the Force Awakens, was how he managed to complement Rey and form a fantastic odd couple tag team. And that feeling carries on over in the Infinity 3.0 playset as well. While Rey is all up in your face with staff attacks that can clear a room quicker than being on the wrong –end of a Steven Seagal slap combo, Finn works best when from a distance.
That First Order training has paid off, as Finn is a monster with a blaster. Fully upgraded, and you're looking at a character who can fire off a blistering 24 shots in a single salvo before you've even blinked. His melee skills aren't anything to really write home about, but it's his long-ranged skills which makes him an absolute beast.
And I dig his figure. It's done with the trademark Infinity attention to detail, adding features where deemed necessary. The eyes are a tad bit dead in my opinion, but the jacket, blaster and pants are all wonderfully realised, to the point where you could use it as a piece of cosplay reference if you ever wanted to.
Poe Dameron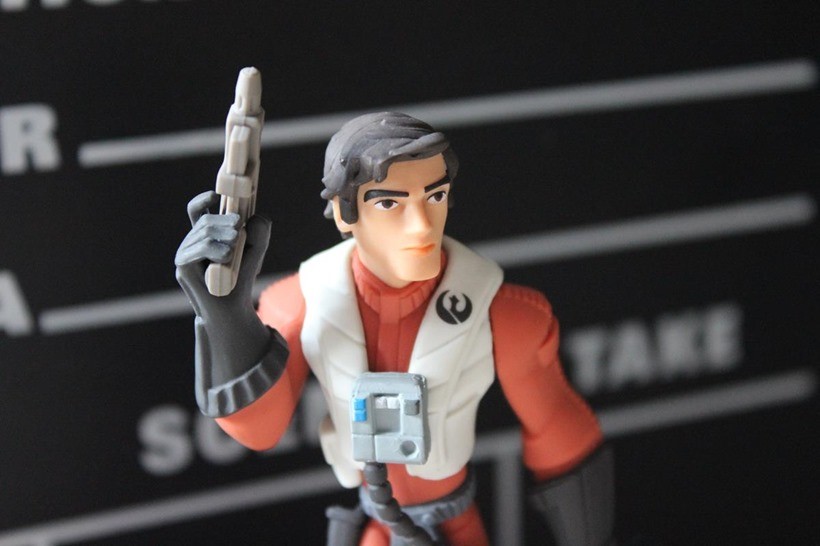 Poor Poe. My favourite character from Star Wars: The Force Awakens, with less screen-time than an Entourage cameo. Still, for a character who was meant to be snuffed early on in the production of Episode VII, Poe managed to ably survive and fans want more of Oscar Isaac's kickass Resistance pilot. And while his character might be the one that fans buy last, his figure easily outshines all of them.
Decked out in his X-Wing flight-suit, Poe has all of the details and then some. Ribbing on his clothes, an invulnerable hairstyle, Resistance symbols and a surprisingly accurate helmet cradled in his spare hand. All the small touches, that combine to form a great addition to any shelf. Game-wise, Poe is the most balanced character out of this wave.
Equally adept with either melee or ranged attacks, he's also the more cinematic fighter of the lot as he can finish off combos with quick fast-draws and blinding flash grenades. Biggest plus however? He can call BB-8 into battle, and use the adorable soccer ball to distract enemies.
Kylo Ren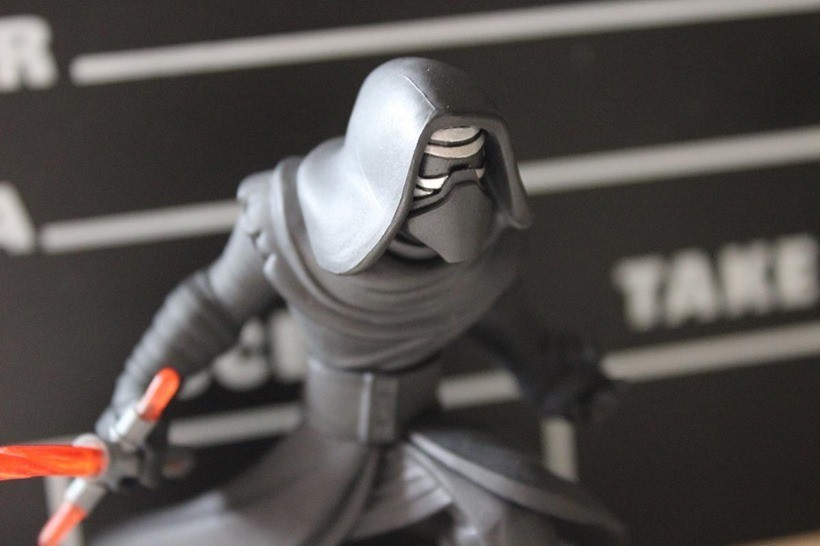 You look at Darth Vader, and you see an enduring icon of the early days of the Hollywood blockbuster. Really great villains, only come along so often in movies. And the way that Disney is going right now with Kylo Ren, makes me confident that we're seeing the next big bad guy born out of this trilogy of Star Wars.
I'm actually looking at doing a Kylo Ren cosplay this year, so I've been doing a lot of research on the visual design of the character. His suit may look simple, but there's so, so much more to it. And his Infinity figure has capture so many of those details, perfectly. Details like the massive belt that holds his cloak together, the ribbing on his arms and tunic, the ragged scarf draped around his neck and the piping on the boots.
Like I said, there's a lot going on with Kylo Ren's costume that you don't immediately see on your first viewing of Star Wars Episode VII. Layers upon layers of details, much like the character himself. There's also a neat touch with his trademark lightsaber, a hastily-constructed and inelegant weapon which has a blade which crackles and spits energy. The Infinity figure emulates that design, with a ragged piece of translucent plastic that feels massively different to the cleaner blades of the established Jedi of the other playsets.
And that sensation is amplified when you play as him. Darth Maul was easily my favourite character to use in Disney Infinity 3.0, but his position has now been usurped by Kylo Ren. Quick, agile and powerful, Ren's defining style of play comes from the sheer rage that he uses to finish off combos, exploding through his enemies as if they were an errant computer console that deserved a thrashing.
Last Updated: January 6, 2016