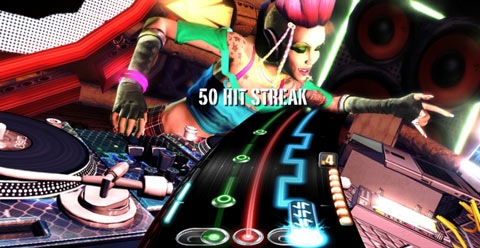 Activision have faith that the DJ Hero franchise still has enough whiki wah's in it to make some serious dough.
DJ Hero was met with less that spectacular sales when it released at the end of last year despite the fact that the game is actually pretty damn fun to play. It someone just didn't appeal to the masses in the same way that the Guitar Hero and Rockband games do.
Some words from the infamous Bobby Kotick through the link.
The confirmation of a sequel was made by Bobby Kotick in an interview with Game Informer and he also had the following to say:
"I think DJ Hero is a really innovative product. I can't wait for you to see next year's," he said. "That's the thing; we're sticking with it. We'll stick with it and get it right."
While DJ Hero did not sell well initially it has so far sold 800,000 copies with Activision also saying that they expected initial sales to be slow as people get comfortable with the new style of game.
The sequel has been confirmed for release in 2010 and we can probably expect to see it on shelves nearer to the end of the year.
Source: IGN
Last Updated: January 18, 2010