Oh Destiny 2, you are a game of caveats. Here's the dealio: Warmind ain't bad for DLC and is certainly a step in the right direction, but for every good idea that the expansion throws at players there'sa  "but" attached to it. Take Escalation Protocol for example. A successor to the Prison of Elders and the Court of Oryx, Escalation Protocol functions as a public event that you can trigger at any time.
You'll face waves of Hive, some bosses with ludicrous health bars and a strict time limit. Complete a full wave, and move on to the next one that increases in difficulty. Cool idea, right? And it is! When you've got a fireteam ready to rock and roll, Escalation protocol is Destiny at its finest: Teamwork, guns and enough bullets to level Stalingrad ten times over.
The problem here is that Escalation Protocol plays in direct conflict with the limitations of Destiny 2.  Fireteams can only have a maximum of three players, whereas Escalation Protocol tends to favour teams of four or more Guardians during even its earliest of horde mode waves. While you can have a maximum of nine Guardians within that public space, such occurrences are rarer than an E3 without hype.
And it doesn't sound like there'll be a quick fix for quite a while. "Escalation Protocol was designed to be a high-difficulty endgame activity for a max-level, three-player fireteam," Lead Designer Jacob Benton wrote on the Bungie blog.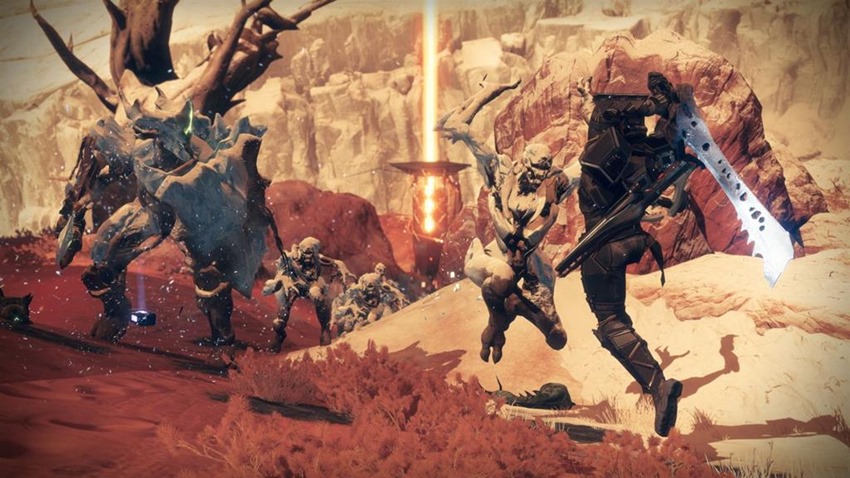 we'll determine what, if any action, is necessary
Other players in the world can contribute to make it easier, but they shouldn't be required as long as your team is highly skilled and coordinated. We have received a lot of feedback since the original launch of Destiny 2 that players felt like reaching max Power was not satisfying. There weren't enough activities that required and rewarded that level of commitment. Escalation Protocol was designed to fill that gap.

Other than Raid Activities, all PvE activities and private spaces are optimized for three players to allow for multiple types of activities in the space. So no, it wasn't designed for it, but it's not a surprise that it's easier with nine players, given how under-leveled most of us are right now. We knew that players would use the same creative workarounds to get nine players into a space similar to Court of Oryx, but we did not specifically tune the difficulty around requiring that many players.

We've had a lot of conversations here about what to do to answer the community's feedback. We're going to continue to monitor as more players progress up to max Power and are able to attempt Escalation Protocol at the difficulty it was designed for and we'll determine what, if any action, is necessary. We also hear players are really enjoying large groups of players fighting against enemies, so we'll use that feedback to inform our future plans.
Yeah, I hear what you're saying Bungie but I'm not buying it. Thing is, Escalation Protocol is a catch-22. It's high-level stuff that you need to be prepared for, but the current design of Destiny 2 makes the climb to power a much slower experience. It doesn't help either that events such as heroic strikes are currently dropping instant-junk weapons and gear either, thus slowing the power grind to a crawl.
A pity then, because Escalation Protocol has the potential to be a standout feature in Destiny 2. Something that Bungie needs to look at fixing, right away.
Last Updated: May 25, 2018