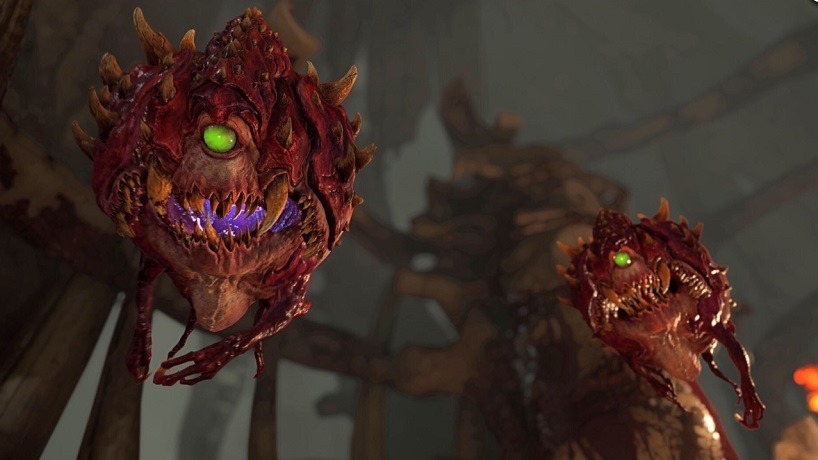 When it comes to fast, twitch-based shooter, aiming for that sweet 60FPS doesn't become a luxury, it becomes a requirement. Simply put, a shooter that depends on reflexes above anything else doesn't feel right at anything lower, which is why franchises such as Call of Duty prioritised this above all else years ago. DOOM is now joining those ranks.
And it makes sense. DOOM is known for its franticly fast action, even in the lull it experienced with DOOM 3 and its more methodically slow pace. With iD Software soft rebooting the franchise that kicked off all other shooter franchises, they've gone back to what made DOOM the shooter no one could forget about. And that's all about stringing together lightning fast, split-second shots with borderline uncontrollable movement speeds.
It's simply not possible at anything lower than 60FPS to achieve that exhilarating sensation, which is why news of DOOM running at not only 60FPS, but 1080p across both consoles is just music to my ears. No arguments over which is the better version (that comes later when all the concessions to make this possible bubble to the surface), just DOOM running at its best on the hardware of your choice. The way it's meant to be played.
Of course that's just one of the many new features that DOOM will ship with in May. Along with the idTech 6 powering it, DOOM will introduce features like SnapMap, which will allow players on all platforms to create and share custom maps, games modes and more for anyone to enjoy. Along with that comes an array of multiplayer modes, many multiplayer weapons we haven't even seen yet and the bloody brutality that they're all bound to inflict on your foes.
DOOM is out on May 13th. You can say that I'm pretty excited for it.
Last Updated: February 26, 2016