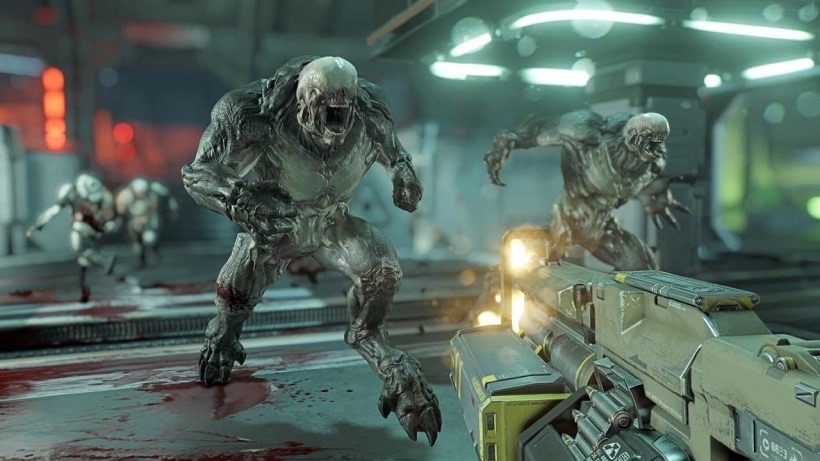 DOOM is getting its last bit of beta testing this week for hell is opened for good next month, so it seems like a good time for Bethesda to start talking about multiplayer progression. DOOM's multiplayer is harking back to the times of the arena shooter, but is still retaining some modern twists that make it feel like a game from 2016. One of those is player progression that keeps your player XP ticking – unlocking an assortment of customisation options to play with.
The first is a healthy array of armour sets, weapon skins and more that will unlock the more you play, letting you truly express yourself before launching rockets into your friends' faces online. Bethesda says that there are around 300 pieces of armour, 90 different colours of paint and 50 weapon patterns to sort through. Just don't expect the ability to make your own mark with custom designs.
With cosmetics comes more useful unlocks, with DOOM's Hack Modules acting as once off items for you to risk during games. A hack module could bestow you with the ability to see your last killer, or observe enemies health bars above their heads for your next life. They're small enough to not make a huge impact online, but also useful in a game that's really not going your way.
And while there will certainly be a lot more at launch, here's just a handful of Hack Modules you'll be able to earn and exploit online:
Supply Timer – Visually display the remaining time before nearby pickups and power-ups will respawn
Alarm – An audio cue plays when an enemy is nearby, warning the player
Blood Trail – Reveals the location of enemies that the player recently wounded
Infinite Ammo – Temporarily grants infinite ammo for both of your loadout weapons
Power Seeker – Displays spawned/dropped power-ups and power weapons through walls
DOOM is really shaping up nicely (even if Darryn is truly atrocious at it), and you're free to give it a bash all weekend. Otherwise, it's out on May 13th.
Last Updated: April 15, 2016