Saturday evening played host to one of the greatest culminations of Dota 2 in the history of the eSport. A tournament which went unrivaled in production quality also offered up some of the greatest Dota 2, ever. While the Grand Final may have been a slight let down for some, we cannot argue that this International tournament was by far the greatest for many reasons. An emotional evening, an enthralling evening, and one that Digital Chaos will never forget.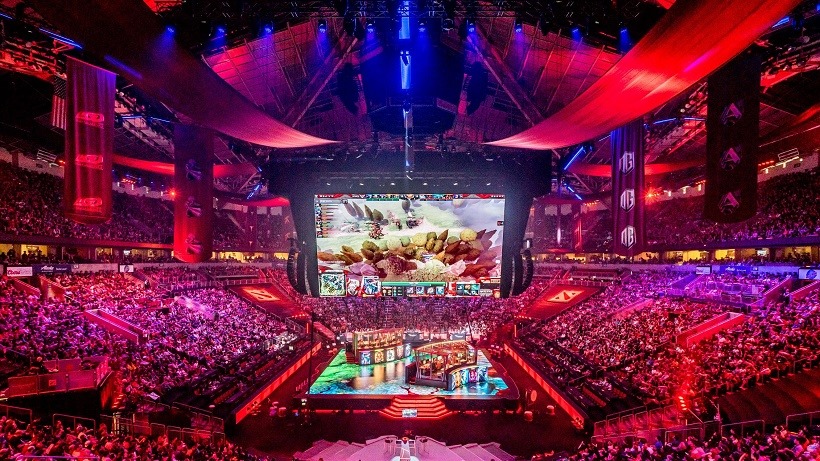 A packed Key Arena for the Grand Final, image courtesy of Dotabuff
Before we get into the thick of things between Wings Gaming and Digital Chaos, and honourable mention must be made Evil Genius who climbed their way out of the loser bracket alongside Digital Chaos to make it into the Lower Bracket final. Both games in the series were absolutely incredible, with EG offering a second incredible game against their "North American" rivals. EG have wowed the Dota 2 community throughout the tournament, despite being knocked out in the Lower Bracket Final. Honestly, if you're just getting into Dota 2 and wanting to know what all the hype is about, I'd highly recommend watching Evil Genius vs. EHOME; easily the greatest Dota 2 match of all time.
The Grand Final
This Dota 2 international saw the most diverse hero pool to day with 105 out of the available 110 heroes being played. The casters and analysts continuously mentioned that there was no set meta throughout the event with teams playing the most interesting and on-the-fly heroes they've ever seen. This was the exact case as we moved onto the Grand Finals between Wings Gaming and Digital Chaos.
Being somewhat disconnected from Dota 2, I was told that Wings either come into an event and win, or come stone last. This left an uneasy feeling as Digital Chaos came in as the underdogs, and Wings Gaming were playing out of their minds, only dropping one map throughout the entire tournament. However, we all sat hoping for an underdog win and break the pattern of alternating East and West wins.
Game 1
After a lengthy introduction, featuring some great cinematography and an orchestra, game one was underway. Io managed to slip through the draft for Wings Gaming, but he was joined by Pudge, his second appearance for Wings in the tournament.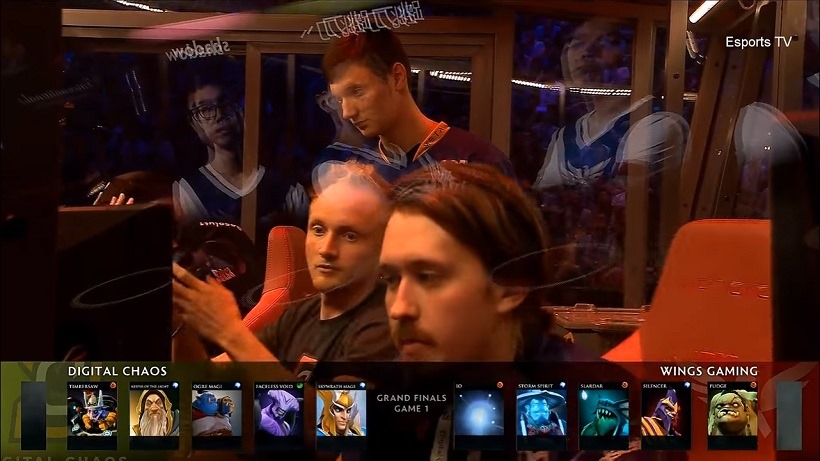 Pudge's appearance became obvious once w33ha's Skywrath Mage got an early lead in solo mid. The hook would serve as a safety net for heroes caught in Faceless void's Chonosphere or Skywrath Mage's Mystic Flare. Wings Gaming opted for a core Silencer as well in an effort to deal with the team fight potential Digital Chaos now had. For the first 10 minutes Bottom Lane was the one to watch as Moo on his Timbersaw continuously wowed the crowd with nail biting escapes and an obvious lead on his opponent in lane, Slardar.
The strategy for Wings was simple, don't allow Digital Chaos to get an early lead, hold them out and shut them down in major team fights by picking off heroes one by one with Storm Spirit and Slardar. Unfortunately for Wings, Digital Chaos did get an early lead, largely on the back of w33ha's Skywrath Mage who dominated in the middle lane as he continued to bully Storm Spirit. The Pudge pick worked for a short time as it allowed Wings to save a number of teammates and pull a few Digital Chaos out of position. Unfortunately, he soon became too easy of a target for Digital Chaos alongside Io whose disengages from team fights often ended in his death. Wings just could not get those quick engage-disengage kills they were looking for, and Digital Chaos slowly ran away with the game. At around the 30 minute mark all hell broke loose for Wings Gaming as Digital Chaos began their final assault of the top lane. Unable to deal with the constant pressure from Digital Chaos, Wings conceded the top lane and subsequently game one, making it 1-0 to Digital Chaos.
Game 2
Wings Gaming, now with their second loss of the tournament, decided to opt out for the Pudge, and instead head back to the Oracle and Faceless Void pick, forcing Wings to play the disengage game by picking up Naga Siren. Naga Siren, throughout the tournament, played a crucial role in engaging and disengaging team fights, especially against Faceless Void. Wings Gaming also opted for their Invoker, allowing Moo to pick up his signature hero, Doombringer. Invoker would inevitably face off against w33ha's Mirana in the solo mid, a hero he used to full effect when knocking out Evil Genius in the Lower Bracket Final.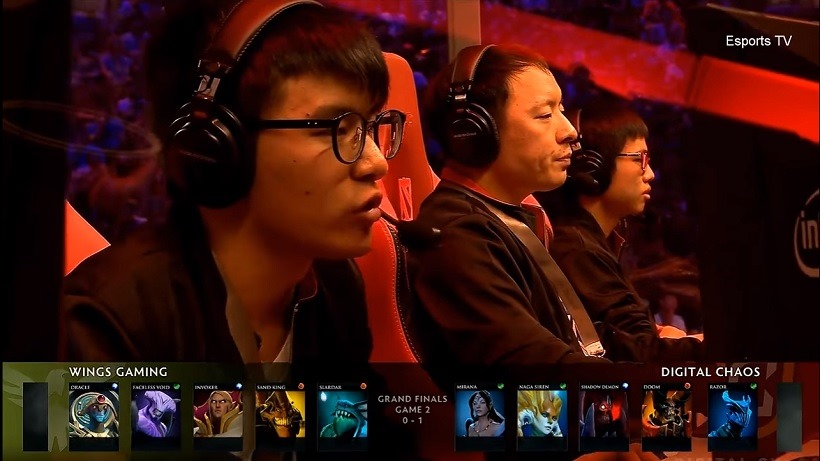 The game felt almost controlled from the middle lane as the lock down offered by both Sand King and Slardar allowed Wings Gaming to set up a few great Sunstrike kills, paying off with the Invoker pick. Top lane was perhaps the most exciting as Wings felt it was imperative to deal with Resolut1on throughout the series. Resolut1ion posed the biggest threat to Evil Genius, almost controlling the lower bracket final, and this became clear as the game went on. Game two was one of the closest of the series as both teams were locked into the mid game trading kill for kill while still maintaining a somewhat close net worth.
Wings, however, did have a small lead as the clock ticked away for Digital Chaos to make something big happen. What became clear throughout the Grand Final was Wings Gaming have fantastic decision making, knowing what to do, and when to do it. For almost 12 minutes both teams were at a stale mate. It was a smoke gang towards Roshan which kicked the action off again as Wings Gaming caught out w33ha near Roshan, which followed a dive on to Resolut1ion who was almost saved by the Shadow Demon. Wings then continued their assault on Digital Chaos with one final Sunstrike kill on Shadow Demon in his spawn.
Wings quickly joined their pushing wave in the top lane knocking down the melee rax, finally taking a substantial lead over Digital Chaos. Wings Gaming made the decision to head to Roshan where they quickly killed him off, while being offered Doombringer, Naga Siren and Shadow Demon for their efforts. The last ditched attempt at a comeback from Digital Chaos was thwarted as Wings Gaming now had the final push in their sights. They moved straight up the middle lane with three heroes dead from Digital Chaos. They immediately dived onto Resolut1ion in the base, taking him out forcing the GG out from Digital Chaos.
Game 3
The draft was almost a mirror of first picks for both teams, before the diverse "meta" came in once again. Kunkka, Death Prophet and Nyx Assassin made an appearance for Wings Gaming, with Kunkka being an incredible support hero with late game seeing an odd transition from support to damage hero. Digital Chaos offered their own form of diversity with a Clinkz pickup, making for an interesting game three.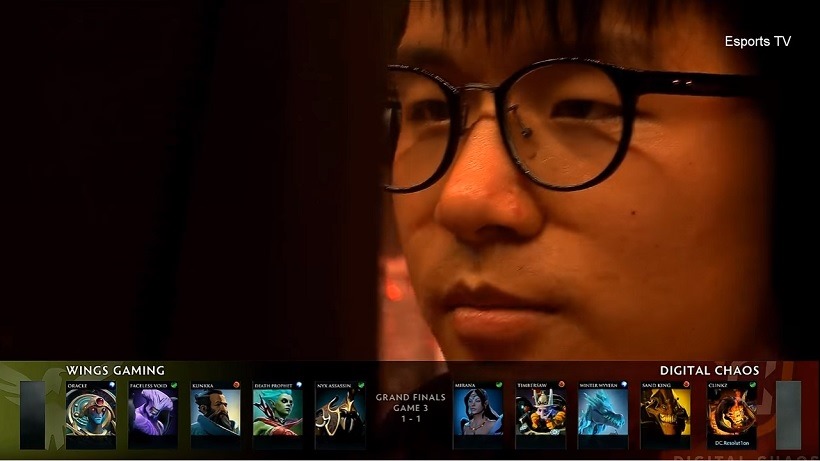 Game three was one of the more dominant of the series as Wings Gaming pulled off an early lead. The Death Prophet pick paid off as blink dominated the middle lane against w33ha's Mirana. After reaching level six on the Death Prophet, Wings started pushing an applying pressure which forced Digital Chaos out of their lanes as they had to now deal with a snowballing Wings Gaming.
At the 13 minute mark an influx of action unfolded in the bottom lane as kills were traded for almost two minutes. It all started with Resolut1ion being taken down on the top lane followed by a Chronosphere on both Moo and Saksa on the bottom. This is where it somewhat came apart for Digital Chaos as one by one they were taken down by Shadow on his Faceless Void. Next to fall was Moo, then w33ha, then Resolut1on again, then Moo, then Saksa again, and finally w33ha with his second death.
Wings now with a 17-7 lead continued their assault of the bottom lane. Wings maintained their lead until the 34 minute mark when they went for the kill on Roshan. This is was the beginning of the end of Digital Chaos in game three as the engagement which followed shortly after took down four players from Digital Chaos. After a slow assault on middle lane, Digital Chaos still tried their best to stay in the game, despite being down 40-18.
At the 45 minute mark Moo handed over a die-back (buying back and dying) giving over the Gem of Truesight and putting his team in an awkward position as a now fully farmed Wings Gaming made their final attempt. Shadow, on his Faceless Void, had an incredible game as he continued to catch out multiple heroes in his Chonospheres. Often catching out Resolut1ion, it was the final Chrono which forced out the GG and Wings took the game 49-24 and now needed one more game to take the Grand Final and over $9 million.
Game 4
Wings Gaming were now on the verge of becoming the International Champions, and they had one last game to win before earning that prestigious title.
Faith_bin on his Axe gave w33ha a rough time in the middle as his Slark unfortunately could not content with the hungry hero. This time around Digital Chaos were able to secure an early lead in the game, but with an Anti-Mage looming for Wings, this was not really an issue. Digital Chaos had great rotation and pick off ability with their lineup, coupled with a Slark and Night Stalker able to wreak havoc at the turn of day.
Moo had a fantastic start on his Timbersaw, a hero he became famous for, as he slowly controlled the game for Digital Chaos. For a long time this seemed as if Digital Chaos may just force out that game five. At the 22 minute mark Digital Chaos had now gained an 19-8 kill lead with their three core heroes occupying the upper spots on the net worth tab. The game fell apart for Digital Chaos when they tried to contest Roshan, having vision and the numbers ready for an assault. Unfortunately, Wings had the upper hand as Faith_bin immediately jumped on to Resolut1ion's Night Stalker, forcing an awkward engagement for Digital Chaos. Here Digital Chaos made the crucial mistake of being forced out of position as Wings Gaming closed down taking down three crucial members of Digital Chaos.
Anti-Mage came alive after the Roshan fight and what seemed like a dominant performance from Digital Chaos soon crumbled as Wings clawed their way back. A massive team fight unfolded on the top lane at the 32 minute mark where DC came out on top trading three for three and getting rid of the Aegis of Immortal on Anti-Mage. They unfortunately could not bring him down, and again Digital Chaos seemed to have a hold on things.
Digital Chaos then made the crucial mistake of over-extending on the bottom lane as they chased down a retreating Wings Gaming. With w33ha leading the charge, Wings immediately turned around taking him down, followed by the Vengeful Spirit and forcing out a suicided from Moo on the Timbersaw. With three down from Digital Chaos, Wings immediately cruised down the bottom lane with the intention of breaking the base. With w33ha still dead, Moo was picked off from a lasso from Batrider. This left Digital Chaos down one man as their base slowly lost its bottom lane. Digital Chaos went for one last attempt at thwarting the push, but Shadow on his Anti-Mage was unfortunately too big at this stage. One by one they were picked off and bought back into the game, only to be taken down again. The controlling power of Axe, Elder Titan and Batride proved too strong as each team fight allowed one or two heroes to be completely shut down as Anti-Mage hacked them to death.
After Wings Gaming retreated from bottom, w33ha decided to give chase as Slark and attempt a quick take down of Faith_bian. This is where it all fell apart for Digital Chaos as w33ha was dealt with, and Faith_bian survived on next to no health. Down for 90 second, Wings immediately capitalized on the situation, heading down the middle lane. This crucial mistake from w33ha unfortunately cost Digital Chaos the game as Wings now entered the base picking of hero by hero. With both damage heroes down Digital Chaos unfortunately could not do anything and Wings took the Grand Final 2-1.
Closing thoughts
This was easily the greatest Dota 2 tournament in the history of the eSport. I cannot stress this enough. It was one slow mistake after another that cost Digital Chaos the game, and unfortunately Wings held their composure despite being down in the final game. A deserved win the Chinese, making the growing trend of alternating wins between East and West continue for at least one more year.
Like esports?
Check out esports central
Last Updated: August 15, 2016