There's a whole side to World of Warcraft which goes unseen to the public eye – The Mythic Race. You might know World of Warcraft as the time-sink people whither away in, but there's a side to WoW which essentially makes the entire game worth it. That is of course progress through PvE content and the top guilds in the world race to see who can be the first to clear a new instance on the highest difficulty – Mythic.
Two guilds, who have been neck and neck for the past few raids, are always finding themselves in some sort of drama, whether it be banter on social media or the likes. This time, however, drama struck as one of the players from Method (an extremely old guild and one of the best) disrupted the progress of Serenity (a newer, but also top guild) slowing the progress in the race to clear mythic. Serenity were leading the race up until about two nights ago when a few other guilds caught up.
Now, it's important to understand that these guilds (during Mythic progress) raid for roughly 12 hours a day (some even 15) and this time is spent progressing on bosses in the instance.
So what happened?
A player from Method (and a friend who isn't in any of the above mentioned guilds) locked Serenity out of their Mythic instance halting progression for roughly two hours.
How did this happen? According to Twitter posts, a Raider from Serenity invited someone to his party in order to receive consumables (used during progress) and this player went into the Nighthold Raid instance and locked the entire Serenity raiding team out. When you enter a Mythic raid instance you're given a unique ID which is linked to your progress. Each member of the raid when entering the instance enters on this ID. If you join a party which already has an ID you are given the option to accept this progress or leave the instance. If you don't accept you can essentially just AFK inside the instance and lock everyone else out.
The culprit was a member of Method, called Jadelolz, seen celebrating in the image below.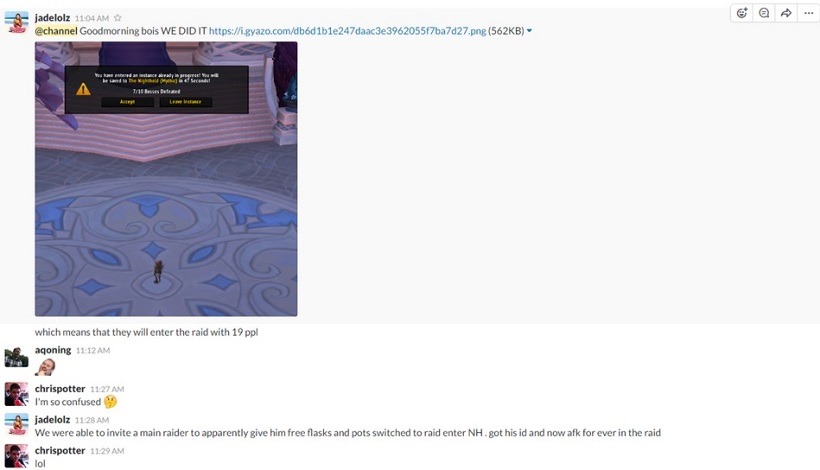 Method leader Sco immediately went into damage control mode:
If this was jadelolz that griefed another guild then he did so without our blessing. Removed from guild until we know more after progress.

— Sco (@Methodsco) January 26, 2017
Not sure why he would take it upon himself to do it, nor why he is like "got them boys!!" when no one in our raid team wanted this.

— Sco (@Methodsco) January 26, 2017
At same time concerned how internal channels continue to be leaked to other guilds, our private forums, and now random slack channels.

— Sco (@Methodsco) January 26, 2017
The last Tweet above is referring to the private Slack channel (shown in the image above) which was leaked and spread all over Reddit, MMO-Champion, and pretty much everywhere. Of course, you can all guess what happened to the culprit next.

If Method end up beating Serenity for the top spot by roughly two hours, then this will never be forgotten. If Serenity still beat Method, this will be rubbed in their faces for eternity. Even though Jadelolz acted on his own accord, his motivation was to stick it to Serenity and in some sick way benefit Method. Method didn't condone it, but they're tied to it and this raid's Mythic Race just got a whole lot more interesting.
Last Updated: January 27, 2017