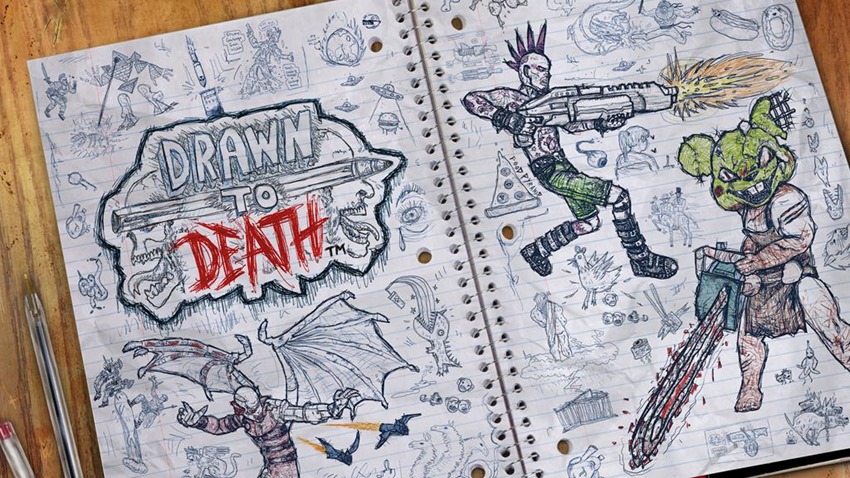 In an industry that pushes its games to the bleeding edge of HDR and 4K possibilities, David Jaffe's Drawn To Death is a bit of an ugly duckling that stands out thanks to an art direction that plays like a car crash: Hideous to gawk at, yet somehow strangely mesmerising. It's also free right now on PlayStation 4, provided that you have a PS Plus membership that is up to date. Is it worth it then, even if you don't have to technically shell out any cash for it, for this month at least?
Here's what the critics have to say so far about it:
There's hope for Drawn to Death to grow into something more, and my fingers are crossed that it does. After not quite a week, I've just about had my fill and don't feel compelled to stick around for cosmetic unlocks earned from drawn-out blind boxes. With new modes and characters, another pass at balancing, and some matchmaking options, I could see myself coming back. Until then, I'm good.
Drawn to Death's juvenile presentation belies a nuanced shooter that's frankly a breath of fresh air. The title fuses fighting games with frenetic on-foot action that feels quite unlike anything you'll ever have played before. Quality game modes and an imaginative roster of weapons are only let-down by the whiff of lingering microtransactions that have seemingly survived the title's business model change unscathed. Other than that, though, it's f*cking awesome.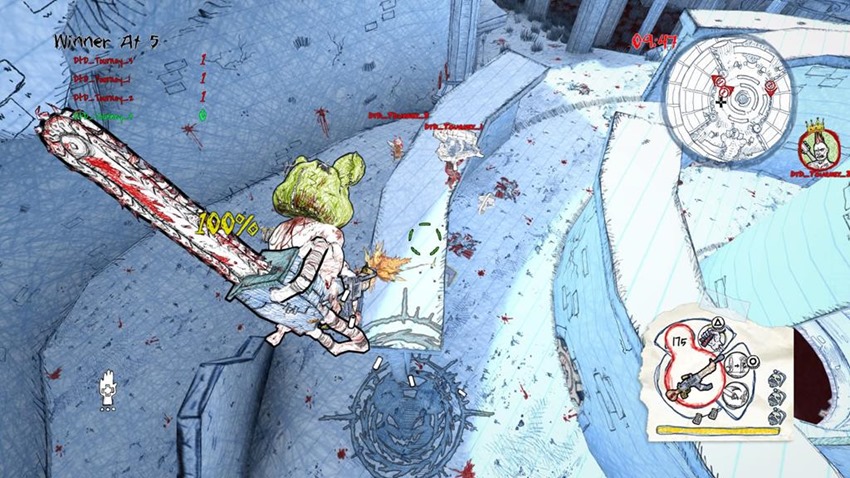 David Jaffe has always been known for games that can be a bit over the top and Drawn to Death may be the most extreme example of that to date. The notebook art style is very unique and works well with the varying character roster throughout the fast paced arena matches. However, the long wait times and crass humor used to make Drawn to Death seem edgy really drag down the experience as a whole.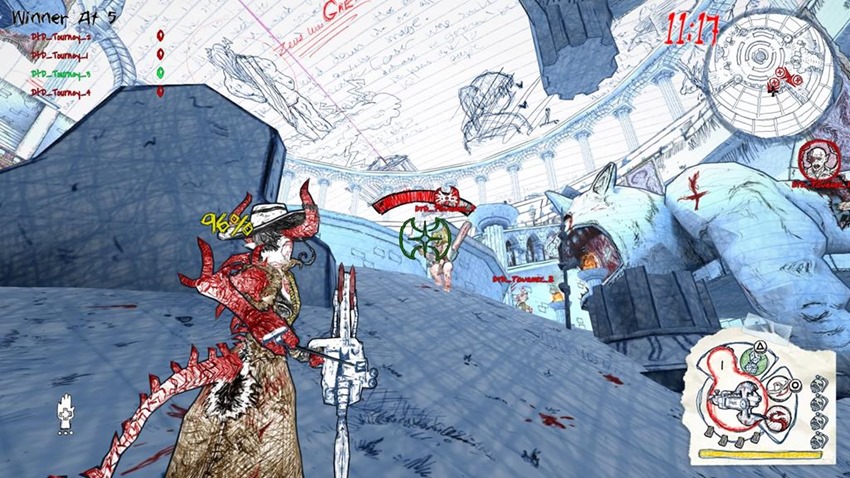 Despite being so repelled at its purposefully unpleasant attitude, we feel a strange admiration at how absolutely unconcerned Drawn To Death is in whether anyone likes it or not. And in terms of trying to mix Quake style arena battles with Overwatch-esque character abilities there are some interesting gameplay ideas at work. But like the visuals, and the insistence on insulting the player at every opportunity, we're not sure they were necessarily a good idea for all those coming months when the game won't be free.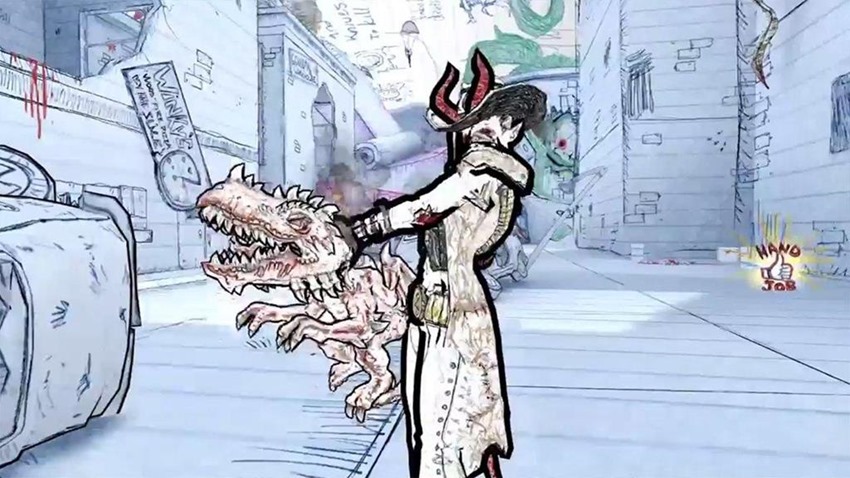 If you're a PS Plus subscriber, it's a free download for you, and definitely something to check out. Like the doodles in a high schooler's notebook, there's a lot of faff here- but buried underneath all of that is some genuinely compelling stuff, which hints at potential.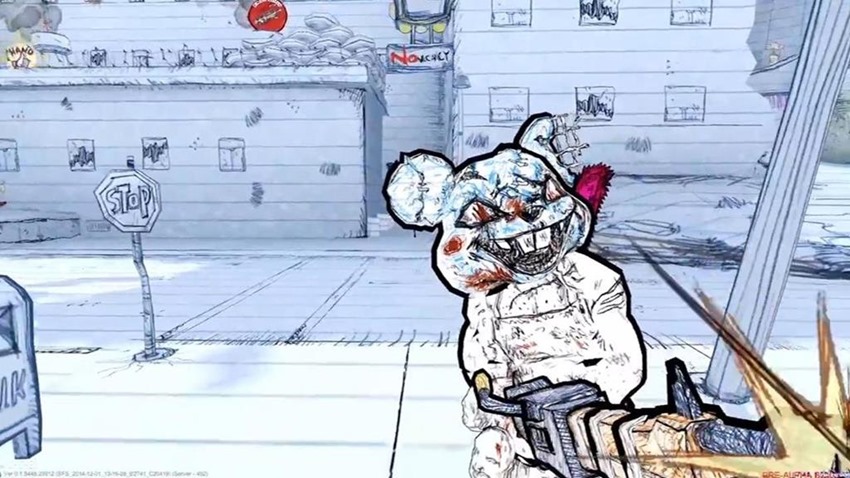 With a look this distinctive, Drawn to Death could have hit the ground running. But as a decent shooter it merely limps, thanks to a number of unfortunate design choices, a lack of options, and rampant bugs. Intricate levels, varied weapons and unique characters may have looked good on paper, but any positives Drawn to Death has get scribbled over and obscured by the constant barrage of un-funny abuse it insists on endlessly spewing in your face.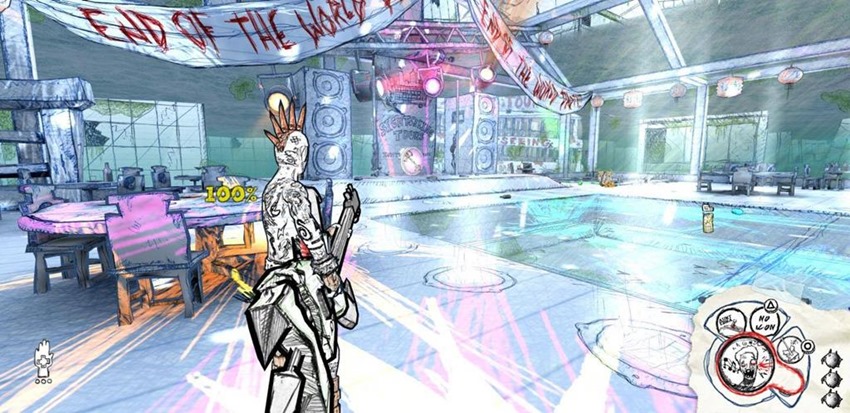 There are games out there with stronger mechanics, better animation, tighter shooting and smoother online connectivity, but in doubling down on action, aesthetic and antagonism, Drawn To Death is pretty successful. This isn't going to challenge Rocket League for the title of best PS Plus game ever – in all honestly nothing probably will – but it's the strongest original offering on the service in some time. Just be warned – if you don't want to see an interactive hand-drawn leaking anus that's also a door, maybe give this one a miss.
Last Updated: April 12, 2017