Throughout my years following eSports, I've seen countless threads made by people wanting to be the next best player in their respective eSport. Arteezy did it on Reddit, and who can forget EternalEnvy telling everyone he'd be the best Dota 2 player one day? The disparity between those who post, and those who make it is pretty large, but one player is now living out his dream after joining Fnatic. It's no secret  that Fnatic have had a rough year, but perhaps adding some fresh talent to the roster is exactly what they need.
Joakim "disco doplan" Gidetun made a post on the ESEA forums in 2014 introducing himself as a player with the aspirations of going pro. Two years later, his dream came true as he joined the shaky Fnatic roster.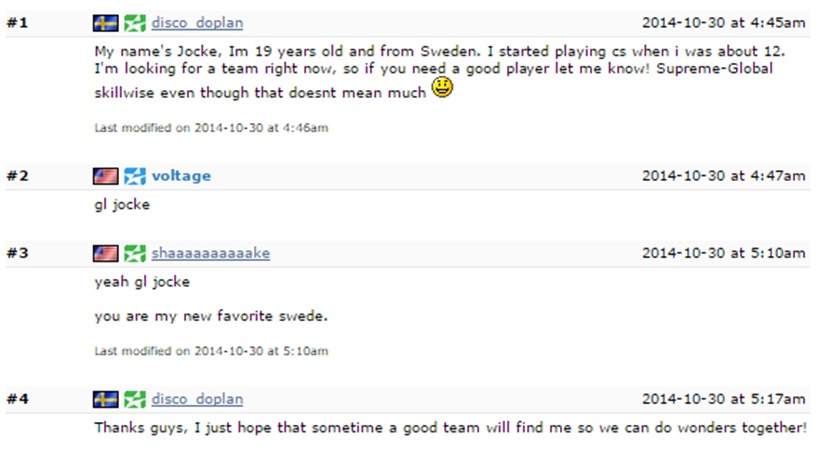 In 2015 Fnatic were the most feared team in Counter-Strike. They took six straight LAN victories with their old roster before everything fell apart. Their winning streak came to an end during the "Great Swedish Shuffle" where Fnatic and GODSENT traded a few players. Initially KRiMZ, Flusha and JW departed for GODSENT, but now KRiMZ has returned, bringing in Disco Doplan and twist (formerly part of GODSENT). The shuffle ended with KRiMZ returning to Fnatic, and lekr0 returning to GODSENT.
Disco Doplan has made a number of premier appearances, while playing for Epsilon Esports. Earlier this year Doplan played as a stand-in for Ninjas in Pyjamas in place of Pyth, but Fnatic will be his premier debut as part of a tier 1 team and it will come with the ELEAGUE group stages on November 18th.
It's like our mother's always told us – hard work pays off, but is it enough to pull Fnatic back into the limelight?
Like esports?
Check out esports central
Last Updated: November 4, 2016