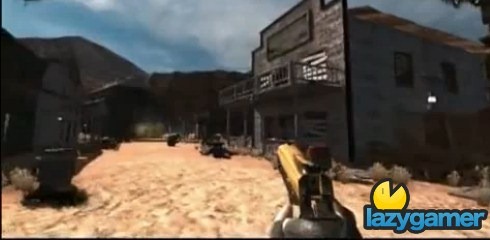 When Duke Nukem Forever started development it was a highly anticipated sequel to a hugely popular game, as time went on it became something of interest on the side.
Time carried on marching and Duke transformed into a bit of a freak show on the side… and yet time continued it's incessant march transforming Duke Nukem Forever into an industry joke.
Since Duke's death he has become somewhat of a cult figure and if someone can just get their dirty paws on the code base and release something it will undoubtedly sell truckloads of copies just purely because of the story behind it.
I am still expecting that to happen sometime and to further fuel my conspiracy theory this gameplay footage has suddenly appeared on the Internet, with all the productions houses and developers logo's attached to the front.
Personally I find the first half of the trailer incredibly disappointing but the second half, set in the Wild West, really appeals to me.
However that could easily be put down to my recent experience with Red Dead Redemption which is easily the best western game I have ever experienced.
Video via VideoGamesZone who bizarrely tried to re-embed the video to hide that it was an easily embeddable YouTube video.
Last Updated: February 1, 2010