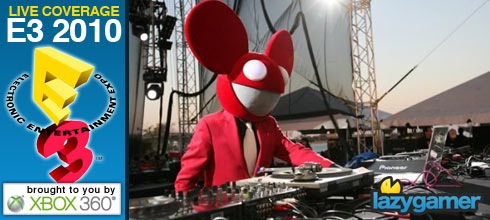 I have to admit that while I – along with many other gamers – am getting tired of music/rhythm games, I really thought that DJ Hero was not given the credit that it deserved.
The turntable controller was a lot of fun to use, and the great mixes built into the soundtrack had me rocking a party for a crowd (by that, I mean my action figures) all night. At E3 this year, we were invited to a special behind-closed-doors looks at DJ Hero 2 and were also given some hands-on time with the game as well.
Hit the jump for our E3 2010 preview.
So what makes DJ Hero 2 any different from the first DJ Hero?
DJ Hero 2 is taking a little bit of a different approach in terms of presentation and musical genres. While the first game was very much targeted at Hip Hop, it now takes a different approach by aiming at a wider variety of music.
The soundtrack now features more pop and dance artists, including the likes of Chemical Brothers, Dr. Dre, Rihanna, Deadmau5 and even that Lady Gaga thing.
The changes can even be seen in the visual presentation, as the graffiti tagging and crazy colours have been replaced with a cleaner tech look similar to what you would expect when you think of high-quality musical technology and equipment that would be seen in recording studios.
The core gameplay for DJ Hero has for the most part, stayed very similar to what it was before although a bunch of new features have been implemented, so let's take a look at what we have.
In true Beck Where it's at style, the new DJ Hero features two turntables and a microphone. Two DJs can go it while your drunken buddy grabs the microphone to lay down some ill rhymes, or do his best impression of Lady Gaga (bleeding dress sold separately). In case you were wondering, the turntables have not changed at all since the first game, so no additional purchases or bundles will be necessary for those who already own the first one.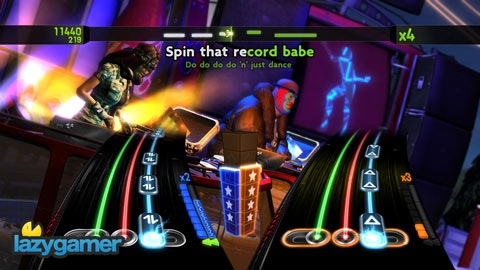 The one issue with DJ Hero was that, while it was supposed to make you feel like a DJ, it never did allow you to mix a song differently, meaning that the song was the same every single time. Now with DJ Hero 2 you are given sections where you are able to freestyle the cross-fader and you also now have much better options where samples are concerned.
A bunch of new multiplayer features have also been made available for some online or offline action. For parties with your buddies, you can now activate a Party Play mode that lets the game pretty much play itself. While that doesn't sound like much fun, the reason for Party Play is that anyone can just hit a button and jump in our out whenever they want.
If you want to keep the multiplayer a little more competitive, DJ battles let you duke it out with friends, giving each a chance to spin their style and outdo the opponent with new modes Accumulator, Streakers and Checkpoints.
Along with some other new additions such as an Empire story mode, that sees you rising up from the dirt as well as social feeds and being able to use your Live avatar as your DJ (Xbox only), the sequel is looking pretty worthwhile.
From the looks of things so far, if you already have the first DJ Hero, it all depends on if you want more. For those of you who were thinking about picking up the first one, but ultimately chickened out, take a good look at DJ Hero 2, it may be just what you were looking for.
Last Updated: June 29, 2010