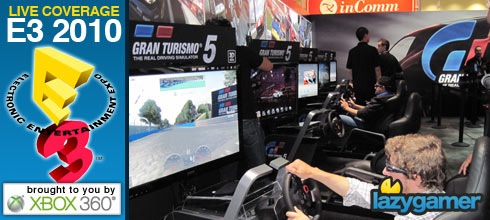 Gran Turismo 5 is nearly here and I have finally had the chance to take Polyphony Digital's new baby out for a drive.
I was able to choose what mode, track and car I wanted to use, so I hit the menus to see what's what. As a big fan of both Ferrari as well as the Top Gear series I decided that it was only right that I should take the brand new Ferrari 458 Italia around the Top Gear test track.
I turned all of the assists off, set it to professional and quick race then unleashed the beast. Read my impressions, after the jump.
Straight off the bat, the racing physics in Gran Turismo 5 are feeling more solid and realistic than ever before. This was further complimented by the really great racing wheel that was setup with the game on the showroom floor. The fresh physics system combined with some top notch force feedback provided an incredibly realistic and rubber-on-the-road feeling whilst powering my Ferrari around the circuit.
Everything feels really tight, and when set to the realistic modes that I was using, the car is ruthless if you don't treat it with respect.
The graphics are still as smooth as ever, but I cannot completely shake the feeling that everything besides the cars still feels a little plain. What I will say is that I was driving on the Top Gear test track, and it doesn't really have much to see to begin with, so I'm going to reserve my judgement as far as track visuals are concerned until I go and test the game out again, on a more interesting circuit.
I will also be playing the game again in 3D and will be update you all on how well it is implemented and how much it adds to the experience.
I left my time with Gran Turismo 5 feeling very confident that Gran Turismo 5 is going to put fat smiles on the faces of fans and newcomers alike. All of the time spent creating this game looks like it may very well be worth the wait as the game proved to be incredibly solid.
Last Updated: June 16, 2010