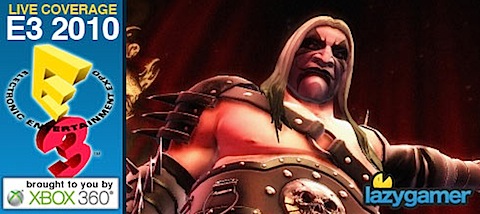 It's really no mystery that at this stage of this current generation, music games have contracted a serious case of over saturation in the gaming market, with tons of Guitar Hero games releasing as well as Rock Band titles serving as competition.
People are getting over it, and almost every household has a couple of plastic guitars lying around their living room collecting dust at this point.
Neversoft and Activision hope to win the fans back by changing things up with Guitar Hero 6: Warriors of Rock. Are we finally getting somewhere, or is Guitar Hero starting to suffer from Tony Hawk syndrome?
Guitar Hero 6 hopes to change things up by adding an extra layer to the campaign mode, and then also add those elements over into the multiplayer.
The single player campaign has you finding rockers from around the world, and then leveling them up through the game until they transform into super bad-ass demonic pwnerers of the rock world in Brutal Legend-esque manner. Each character has their own signature power that can be used during a song and are varied from bigger multipliers to super star-power abilities.
You build up a band over the course of the game and then eventually use the best combinations of powers to make your band rock out like never before.
The powers are also taken over into multiplayer and allows you to customize your character to destroy your opponents in the way that suits you best. The same usual features can be found, such as the ability to create your own music or buy new music packs, tracks, jump-in/jump-out multiplayer and so on.
The truth is that after playing GH6: Warriors of Rock and seeing the presentation, I just can't say that there was anything really new happening there. The music still works pretty much the same as it always has and besides being able to use special abilities and do things like have 4 people all play lead guitar, I really don't see any reason for anyone with World Tour or Metallica to consider buying it.
It's essentially still the same game at it's core and with so many gamers already owning a previous version of the Guitar Hero series, it just doesn't make sense to buy yet another version.
The Guitar Hero franchise is officially in trouble from what I could tell from the presentation. The series really needs either a break or some serious innovation at this point.
As always, we will, need to wait for the review copy to find out of there is more than meets the eye, but for now I can't say that I was really impressed with what I saw at E3 this year.
Last Updated: July 6, 2010