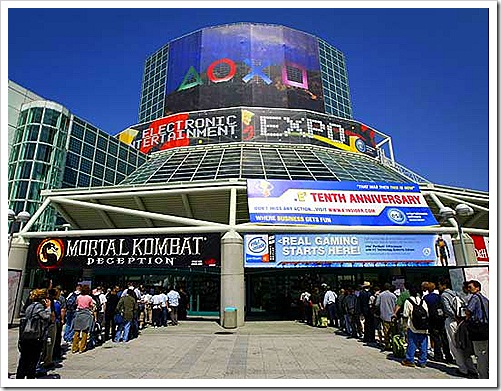 So we all know of the glorious yearly event that is E3. A smorgasbord of digital delicatessens eagerly awaiting our hungry fingers is laid out just waiting to be plucked.
Well, I think for most of us, we have never been able to savour the taste that is the E3 Expo, but just in case your mouth was salivating for some pre-E3 goodness, here is a little something something for all you gaming hungry guys and gals!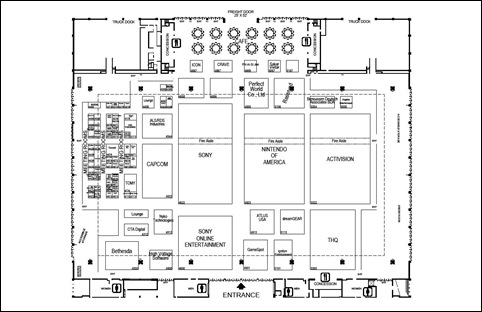 So here we have the West entrance of the building. Let's take a look at some of the scandal going on in our little 2D black and white adaptation of E3 2009. First up, we got some Sony in the middle and…what's this? Right next to Mr. Miyamoto himself?
Okay, and they're wedged in nicely between The East meets West boys, Capcom and Activision. Okay, there isn't really anything spectacular about that one. But, don't be too hasty to judge. Check the South Entrance, and you'll notice a nice slice of conspiracy pie…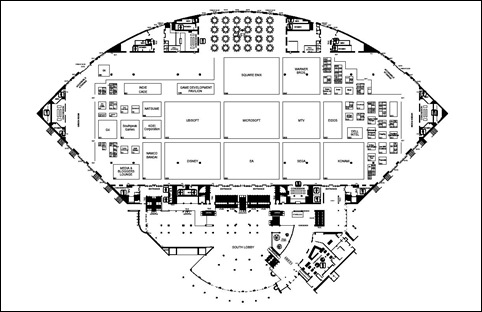 Ello Mr. Gates! Is that you and your boys all the way over there? So, does that mean Microsoft is still not ready to shake hands with Sony? Has Nintendo formed the truce, or are the sneaky Sons of Mario playing spy and simply awaiting their chance to back stab the Sony Bigboys?
Well, on the South Entrance, from what I can deduct, is where all the action is! We've got some big names in gaming surrounding Microsoft! EA, Ubisoft, Square Enix and MTV? Those are some serious allies! Okay, fair enough, Sony does have Nintendo, but Capcom, Sony Online and Activision? If they had to throw down, I'm hiding behind Bill Gates and his boys and shouting ugly words at Sony…hands down!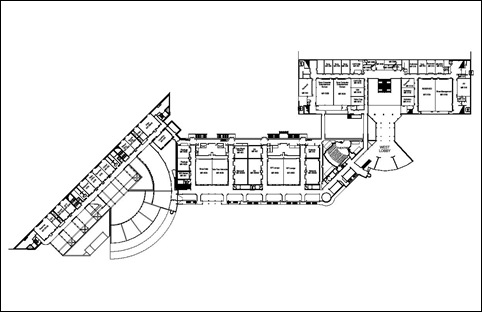 Then we have Seniôr 2nd Level. Okay, there really is almost NOTHING going on here…except, wait a minute! Sony once again rubbing shoulders with Capcom and Microsoft once again getting friendly under the table with EA?
Mmmmm. Something smells fishy and it isn't the sushi at the Nintendo stand…which is where again? Wait. Almost right next to Microsoft? And you thought I was lying about the sneaky thing? Nintendo, you smart, conniving masterminds you. Sliding the ol' dirty palm into Sony's lap downstairs then taking a little stroll behind the bleachers with Microsoft upstairs?
And all the while here we were, thinking that Nintendo didn't know how to get down. They're checking out the competition, and they're smiling, I promise you that. Coz they know, when their next console comes out that has everything in it the xbox360 and ps3 didn't have, all that brown-nosing is going to pay off big.  Anyway, the main thing for me, is how these boys like to run in packs! Sony, Activision and Capcom once again stick together on all levels, as where Microsoft enjoys the company of the EA and Ubi…no, wait a second…Take Two?
Okay, I'm going to stop myself with all my conspiracy theories before I totally lose the plot. But what do you guys think? Do you think we might be seeing a lot more Xbox exclusives from EA?. And what about Capcom? Might their next iterations like Resident Evil 6 be a PS only title? I don't know, but something really smells fishy.
Seriously. Maybe I forgot the fridge open. Mmmmm.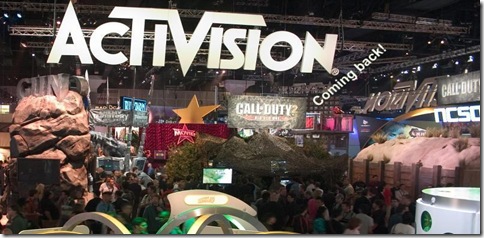 Last Updated: May 20, 2009