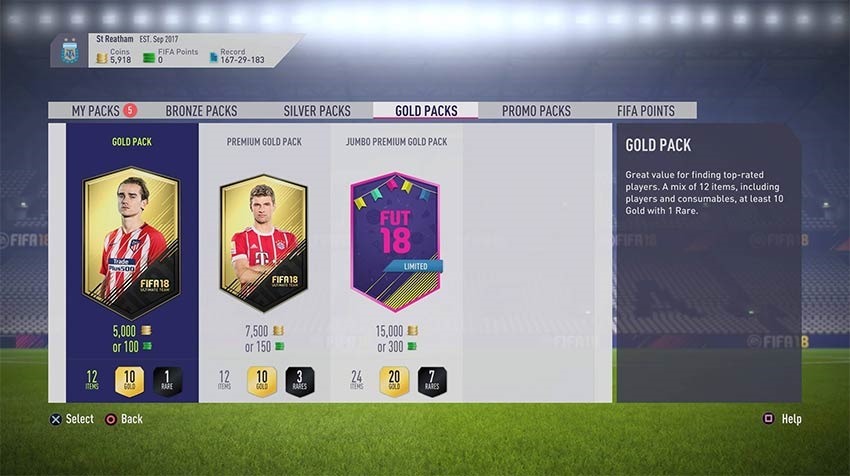 In late 2017, The Belgian Gaming Commission decided that video game loot boxes were akin to gambling, and sought to have them banned. "The mixing of money and addiction is gambling," said the commission, adding that its implementation in games was dangerous for the mental health of children. In August last year, Blizzard removed Overwatch's loot boxes from sale in the country, presumably to stay ahead of the law.
EA, however, was defiant – and ended up under criminal investigation in the country for its refusal to remove those gambling elements from FIFA.
"If there is a game of chance, it is not possible without a permit from the Gaming Commission," said Belgian Gaming Commission director Peter Naessen, adding that "Games of chance cannot be compared to any other kind of economic services. They may cause people to become addicted to gambling and cause them to lose a great deal of money."
Now it appears that EA has conceded, and will be removing the ability for FIFA players to spend real money on the points used to buy FIFA Ultimate Team packs. The packs are essentially lucky packets, with random cards in them, and that, Belgium says, is gambling. Says EA:
"After further discussions with the Belgian authorities, we have decided to stop offering FIFA Points for sale in Belgium. We're working to make these changes effective in our FIFA console and PC games by January 31, 2019. This means that players in Belgium will not be able to purchase points to obtain FIFA Ultimate Team packs. Players still can access Ultimate Team and play with their existing players. All content in the game can be earned through gameplay, as has always been the case, and players can continue to use coins and the in-game transfer market. Any players in Belgium that have existing FIFA Points in their accounts can continue to use them, but they will not be able to purchase more. We apologize to our players in Belgium for any inconvenience caused by this change."
Players will still be able to earn the packs in-game, they just won't be able to spend any money on those blind packs. While EA is conceding, they're not especially happy about it.
"While we are taking this action, we do not agree with Belgian authorities' interpretation of the law, and we will continue to seek more clarity on the matter as we go forward."
EA also adds that the change isn't "material to our financial performance," but I bet that if other European territories start clamping down on this stuff, it may very well become that way.
Last Updated: January 30, 2019