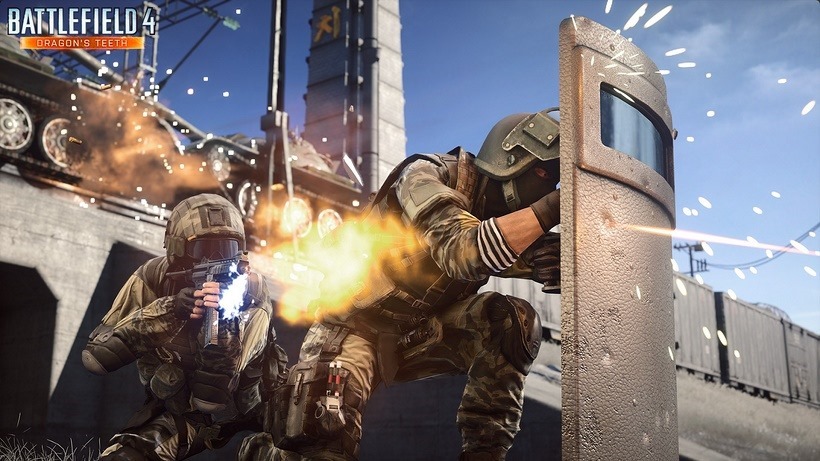 At 10pm tomorrow (if my calculations are correct), a brand new Battlefield will be unveiled. To celebrate there being a new game in the franchise, EA are giving some love to the older titles, namely Battlefield 4 and Battlefield Hardline. Over the next few months, they'll be giving away previously released DLC packs for both to players for the excellent price of free.
This promotion will be applicable to every platform – Xbox One, Xbox 360, PlayStation 4, PlayStation 3, and PC – and it's already underway. From now until the 10th of May, players can already look forward to grabbing Dragon's Teeth for Battlefield 4, and Robbery for Hardline. Here's an overview of both (via PC Gamer).
Battlefield 4: Dragon's Teeth
Four Urban Maps: Sunken Dragon, Propaganda, Pearl Market, and Lumphini Garden. These four maps are designed for urban combat among modern high rises, pristine parks, bustling alleyways, a floating restaurant and grey concrete.
New Game Mode – Chain Link: Dragon's Teeth  adds Chain Link, a game mode that brings another layer of depth and strategy to the multiplayer mayhem. Act fast and link together capture points to secure the win.
New Gadget – The R.A.W.R: Among the gadgets added in Dragon's Teeth is the R.A.W.R., a controllable unmanned ground vehicle armed with a machine gun and grenade launcher.
Battlefield Hardline: Robbery
Four Expansive Maps: Explore The Docks, Break Pointe, Museum, and Precinct 7. Criminals are ready to do something big – they're prepped to launch massive heists in snowy cityscapes, murky docks, massive museums, and sunny coastal cities.
New Game Mode – Squad Heist: Built as an homage to the beloved Squad Rush in Battlefield 3, this mode combines the combat ofBattlefield with the intimate fantasy of a classic heist.
New Weapons and Gadgets: Take out your enemies with the Throwing Knife, and check out two new Gadgets: Vehicle Healing and the CS Gas Launcher.
Legendary Super Feature: The Legendary Super Feature gives you the opportunity to become one of the truly elite Battlefield Hardline players.
It has been a very, very long time since I played Battlefield 4. I simply loved that shooter, and didn't put nearly enough hours into it. This sort of promotion is perfect to pull me, along with thousands of other players back in for some gorgeous warfare.
As for Hardline, well, that's one Battlefield I never got around to playing, so I can't really comment. Still, I don't think free DLC will ever go amiss, so I'm sure fans of that title who missed out on the Robbery pack are happy to get their hands on it.
Now what I'd really like to know is more about the Battlefield being revealed tomorrow. Are you excited for the announcement too?
Last Updated: May 5, 2016