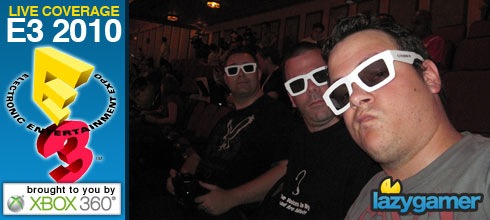 We are at the EA Keynote, and to make things even more interesting, we were given 3D glasses as well.
Due to more lack of WiFi in the theatres, we bring you the Not So Live Blog of everything that happened at the event just moments ago.
Hit the jump for all the information, we saw some great stuff.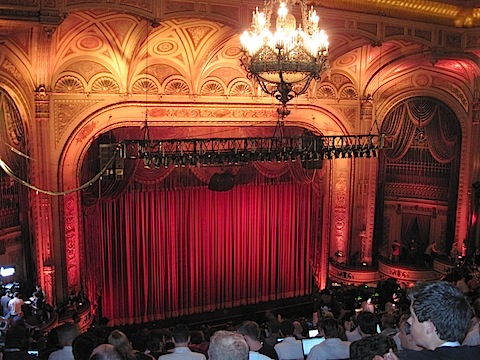 2:09 – Video – chase, race, hunted. What side are you on? Mountains, car engines. Police, sportscar.
Veyron Cop Car, chase through forest in mountains. Helicopters. Hot Pursuit 3? Yes, Need for Speed Hot Pursuit 3 from Criterion games! Criterion head, says "take NFS to its roots". Full career as racer and cop. Big applause.
Need for Speed Autolog – NFS social connections and sharing.
Playing as cop and racer on stage. Cinematic introduction to chase. Lambo vs Lambo. Visuals looking good, very smooth. Traffic in the roads, mountain forest. Really has the feeling of the original Hot Pursuit. Does have damage model. Damage affects performance. Cop car totals the racer, "busted"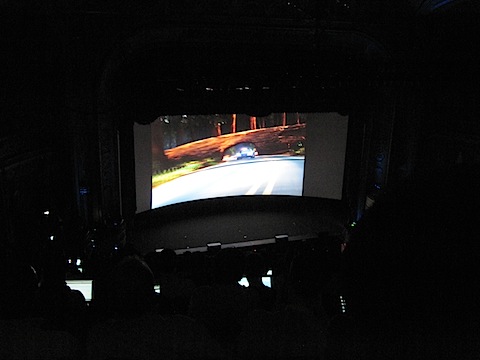 November 16, 2010. WIll be on the show floor.
2:17 – John Riccitiello on stage
Welcome messages. 10 great games from 10 great producers.
Dead Space 2 – Steve Papoutsis Executive Producer on stage.
Dead Space 2.
Gameplay footage. I'm sooo not playing this game. Visuals are very impressive and smooth. Huge monster trying to kill the protagonist in giant cathedral.Similar gameplay mechanics. Cathedral is very different to previous game, visually.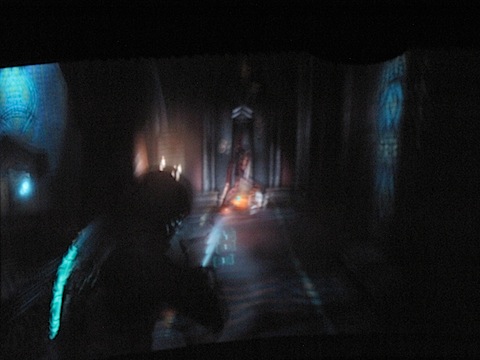 More vibrant. Lots of enemies, will Dead Space 2 be more action-oriented?
First look at new enemies, "Skraal"? Huge external cityscape, modern smog ridden sity, lots of tall buildings and smoke. Airship shooting through the windows. Takes quick escape. Quick glance of enemy, scary!
1.25.2011
Left on cliffhanger, "find out what happens at tomorrows Sony show".
2:24 – John back on stage – speaking about FPS games. Next big step after Bad Company 2. Medal of Honour.
Sean Decker – EA General Manager LA
2:26 – Live 24 player MP demo! 24 machines come down from above the stage. people walk onto stage and take their places.
24 screens on stage. Really looks a lot like Modern Warfare 2, complete with score popping up when getting kills and assists. "Headshot +5" etc.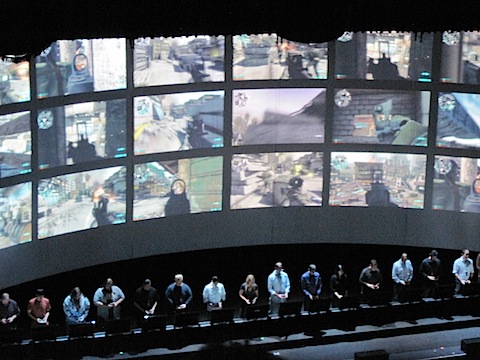 Calls in cruise missile from the sky similar to predator missile. Huge explosion. Done.
October 12, 2010.
Beta releases June 21st for PC, Playstation 3 and Xbox 360.
World Premiere of Multiplayer trailer for Medal of Honour to close off the segment.
Very very Modern Warfare 2, with a hint of Bad Company 2.
2:32 – Gun Club
Hillbilly song playing " I Like Guns" with short video. Social connections and unlocks for EA games. Reward for BC2 VIPs.
Bad Company 2 expansion pack sneak peek.
Vietnam? Yes it is. Bad Company 2 Vietnam revealed, coming Winter 2010.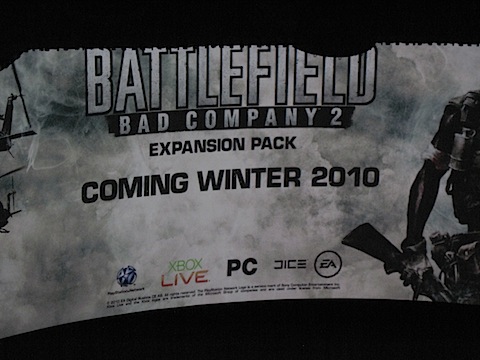 2:35 – Peter More on stage for EA sports
"True game changers" , "Starting with EA MMA".
Online feature – EA Sports Live Broadcast. Create own fighter, create smacktalk video of yourself online. get noticed, If chosen, you play in major game, with real spectators. Prizes given to winners. Real commentators. I kind of like where this is going.
In Stores October 19. "Now it's a fight" – poke at the UFC game?
2:41 EA Sports Active 2
Multiplatform, Stat Tracking Online, Wireless, New biometrics technology.Tracl Progress Online. November 16th.
Uses Kinect for Xbox 360. Wii version shown, fun mountain biking with bostacles. PS3 version may only need the Move's camera for tracking.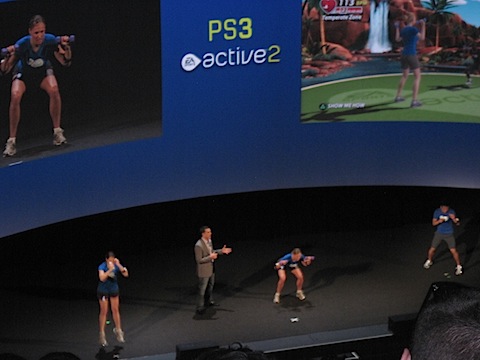 2:46 Peter Moore back on stage
Madden NFL – "simpler, quicker, deeper" "evolution". 3 vs 3 team co op online. Haha "John Madden Likes This" facebook button popper up on screen.
4 times superbowl winner Joe Montana on stage. – running us through some plays. Calling audibles and play actions. Reinvented play calling system.
2:54 – Strange dude on stage, in black suit. Talking Philosophy. " Rod Humble – Executive Producer on Sims 3. Sims have free will? This is odd. Reminder that in October – Sims 3 coming to console.
Short promotional video of Sims 3 being shown. "PLAY WITH LIF3".
3:01 – John Riccittielo back on stage – EA Partners.
New partners , Ted Price from Insomniac and Respawn Entertainment, all in the audience.
3:03 Crysis 2 getting introduction. Crytek founder on stage.
Sandbox experience, "dont tell you how to play". Mixing tropical and urban jungle.
Enemies "most intelligent enemies, ever in any first person shooter"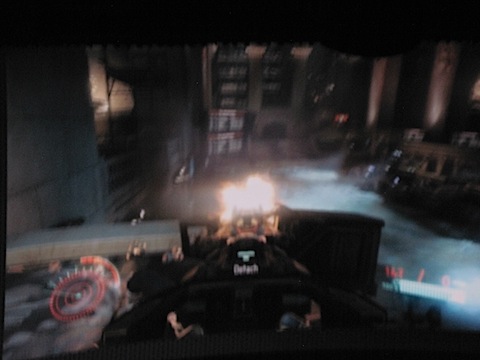 Gameplay footage. Stunning visuals, very very smooth framerate.Inside old train station? Large mech enemy breaks through the wall. Huge fight happening, boss battle. shoots RPGs then plants C4 on mechs legs. Swapping between heat vision, also using stealth to move around mech. Huge amounts of destruction. Building attacked, falling over. In streets now, people asking for help. End.
Told to put on 3D glasses.
This Holiday True Stereoscopic this holiday on PC, Xbox 360 and PS3! Action packed trailer shown in 3D. Seeing a few small issues with the 3D, especially with reflections that dont keep proper depth properties. Big applause.
Available to play at E3.
3:12 Bullestorm up on screen. Cliffy B up to introduce the game along with Epic Producer and lead from People Can Fly.
Release date – Feb 22nd, 2011 – Not a 2010 title.
Live Gameplay on stage of the campaign. Large exterior, gorgeous graphics at steady smooth framerate, really great looking game.
Using environment and tools to to terrorise the enemies. Some first person platforming together with fast paced shooter action. Heavy violonce, insane amounts of pwnage. Constant chatter between game characters during action. Style points for killing enemies in creative ways.
Half the screen just cut out? Projector problems.
Now on moving train killing pursuiing enemies with minigun. End.
3:20 – Star Wars Old Republic, People from Bioware and Lucasarts.
Every player gets own starship. Will be unique to player. PvP details. Battle in Warzones based on famous SW settings. Pick a side. New Trailer. Hands on at E3.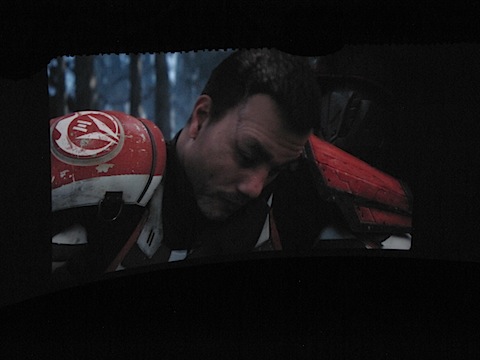 New trailer is up. Star Wars Fangasm just happend, wow. Dont forget to watch this one as soon as it's posted on the site. Big Applause.
3:28 – John back for the wrap-up. We are done here.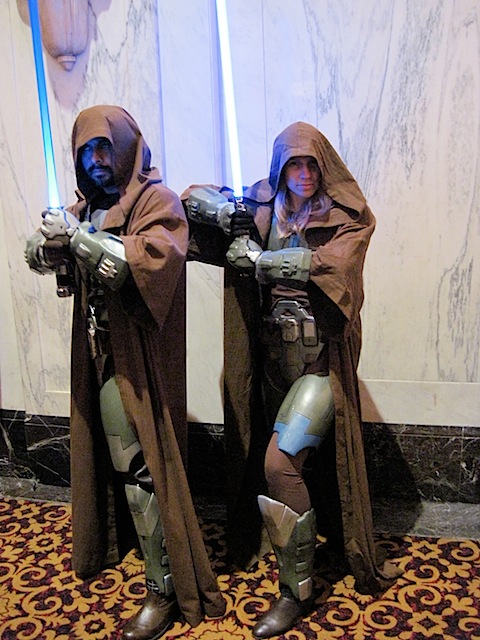 Last Updated: June 15, 2010