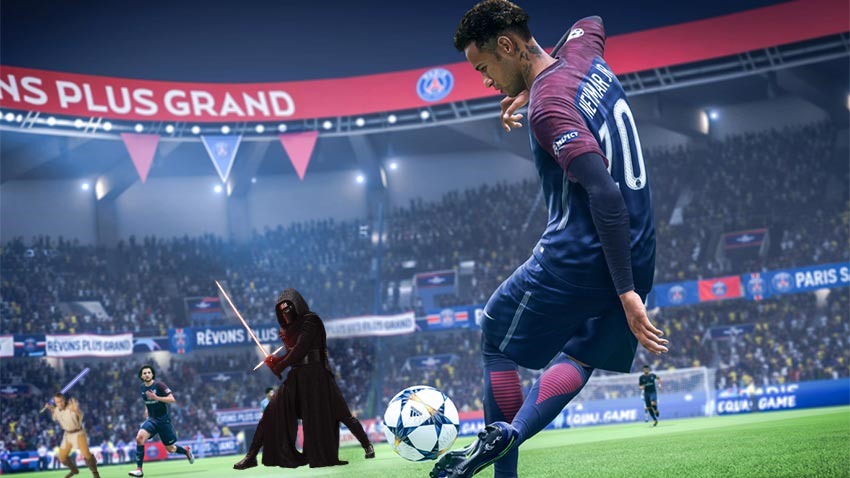 EA may no be persona non grata at E3 lately, but the brand itself still plays a large part in the overall festivities of the annual video game showcase. With an offsite base where they show off new games, EA still has plenty to show off. Predictably so! Much like John Edwards in a hall filed with gullible people who are desperate for some sort of emotional closure, you don't need to be psychic to see what's coming.
The next FIFA and Madden NFL game will be on show, but the game of the hour will undoubtedly be Respawn Entertainment's Star Wars Jedi: Fallen Order. Originally, EA was planning to roll out announcements all through the week leading up to E3, but in a reference to David Bowie, there were some cha-cha-changes in the air.
That plan was scuppered in favour of EA having one long stream highlighting their best and brightest game. And also FIFA. HEYOH! Please don't give me a Glasgow smile. The stream (which I'm guessing will probably have influencers cringing up the show and hyping up their own personal brands instead of doing the games promotion job that they were paid to do again), kicks off at a not too unreasonable hour. Here's the schedule in American PT Time for the upcoming Saturday stream on June 8:
9:15 AM – Countdown to EA Play
9:30 AM – Star Wars Jedi – Fallen Order
10:00 AM – Apex Legends
10:30 AM – Battlefield V
11:00 AM – FIFA 20
11:30 AM – Madden NFL 20
12:00 PM – The Sims 4
And for those of us who exist in a more elegant time zone, here's when you can watch the streams in good ol' Central African Time:
18:15 PM – Countdown to EA Play
18:30 PM – Star Wars Jedi – Fallen Order
19:00 PM – Apex Legends
19:30 PM – Battlefield V
20:00 PM – FIFA 20
20:30 PM – Madden NFL 20
21:00 PM – The Sims 4
That's a nice schedule. Fallen Order kicks everything off, while the rest of the evening focuses on future content for Apex Legends, the year ahead for Battlefield V and the debut of EA's most popular sports games: Football and Football. The Sims 4, which yes is still going PLENTY strong almost five years after it launched, ends the stream on a soft but dedicated note. Just don't expect to see any Need for Speed mentioned.
Last Updated: May 30, 2019