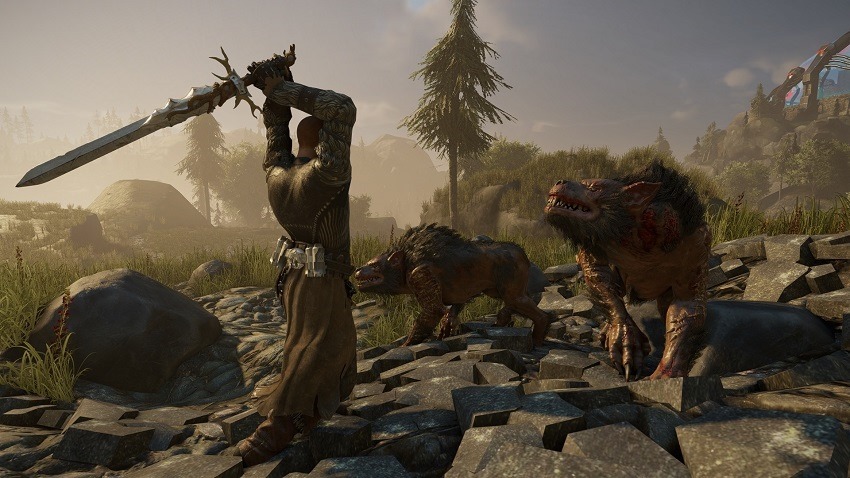 Role-playing games all have some sort of setting. Dragon Age sticks to high fantasy while Mass Effect goes space opera. Games like Horizon look at the post-apocalypse, which Fallout dabbles with too in its own sort of way. Games like these have identity – a single hook that allows anyone to see a piece of artwork and know exactly which of the four it belongs to. ELEX, a new open-world RPG from the developers of Risen, chucks that all out of the window.
ELEX was given a release date last week already, but it's yesterday's gameplay trailer that has me scratching my head. I think I'd have to go back to watching it to try and count out how many settings changes there are. It's advertised as a science-fiction RPG, but there's moments where it looks like Destiny, others where it's some sort of wild-west steampunk title and then straight up medieval at times. Just take a look.
I'm all for diverse settings, but this just seems confusing at best. There's no real coherent thread for me to latch on, and as a result I don't really know what ELEX is. There are moments where your character is fighting in hand-to-hand combat, and then a snippet which looks like over-the-shoulder corridor shooting in a dilapidated factory that would fit right into something like Metro 2033. ELEX seems all over the place, which is perfectly fine if that's the sort of feeling Piranha Bytes is going for.
Honestly it just complicates an already massive looking game. But it's out this October if that's slightly interesting to you.
Last Updated: June 7, 2017