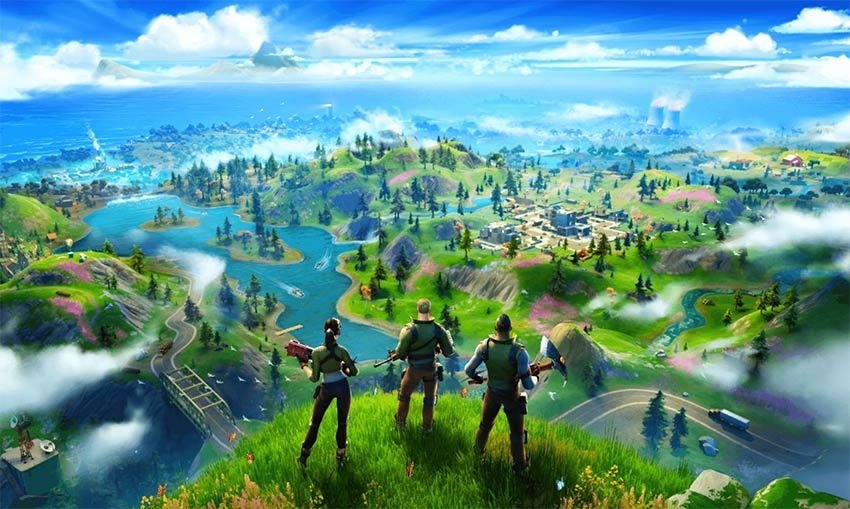 When Fortnite's previous chapter ended, it sucked the game's entire map into a vortex. It was a fantastic bit of server maintenance and game overhaul disguised as a marketing stunt, and it was sheer genius all round. Unfortunately, a bit of the event's impact was lessened, thanks to a series of leaks. The game's second chapter was unceremoniously leaked by the Italian Apple store, but it's an earlier leak that Epic is taking umbrage with.
They're suing one of the game's UX testers, who leaked Fortnite's new map before it went live. Epic filed the lawsuit on Friday alleging that game tester Ronald Sykes — known online as @invisiblellama9 — leaked information about Fortnite's new map and details about Chapter 2. The lawsuit claims that Sykes broke a binding Non-Disclosure agreement by revealing information about the game's impending changes online.
"He did so at the expense of Epic and those in the Fortnite community who were anxiously awaiting the new season of Fortnite only to have some of Epic's planned surprises spoiled by Sykes' leaks," Epic's lawyers wrote.
"Unauthorized disclosure of trade secrets undermines the incentive to create and innovate because it demoralizes those who work on a game over many months, only to have the fruits of their labor soured by someone they held in a position of trust.

Defendant's conduct is damaging to Epic in many ways. Just as leaked secrets can generate significant traffic and revenue to the benefit of those who publish them, those leaks are destructive to the owner of the leaked material. Leaks negatively impact the financial performance of current and future versions of the game. They tend to lessen the excitement and enthusiasm of a game's players and audience, potentially leading them to move to other games."
Unfortunately for Sykes is that nobody believed him, so he didn't get the imaginary social media points he thought he would. It's also not as if the leaks had much impact; Fortnite's black hole broke viewership records on Twitch and YouTube, bringing Epic's servers to a grinding halt.  He was also not the only leak – but the unfortunate reality is that he broke NDA. And I think that's the entire point of this suit. Epic wants to make sure they protect their property going forward and is using this case to dissuade others from leaking information.
Last Updated: October 28, 2019