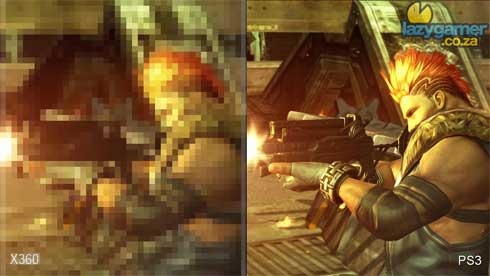 When Final Fantasy XIII was announced for the Xbox 360, the internet erupted into shock and awe. Many were concerned that a game, so late in its development already would not port well – and it seems they were right. According to Eurogamer's Digital Foundry the Xbox 360 version is significantly inferior to the the one found on its once exclusive home, the PS3.
"The rumours are true. Final Fantasy XIII on Xbox 360 isn't anywhere near as impressive as it is on PlayStation 3. The real kicker is that it's a lot worse than it should have been."
"Square Enix's latest epic – 4.5 years in the making – follows on the basic principles established by all of its PlayStation predecessors in combining an excellent 3D engine along with vast amounts of pre-rendered CG. This presented two very difficult issues for the developers tasked with porting an already mature PS3 work-in-progress over to the Xbox 360."
The big problem is that Square Enix did a quick and dirty job in the porting. Instead of retooling the game for the 360's hardware, they just tried to pretty much shoehorn the already created PS3 assets in to the 360 architecture. The result? The Xbox version runs at a sub-HD resolution of 1024×576, as opposed to the PS3's 720p. Also making quite a difference is the fact that the 360 videos are quite poorly compressed, using Bink video.
I've been playing the game (on the 360, unfortunately) and can attest that the CG videos – an intrinsic part of the Final Fantasy experience – are indeed horrible on the 360, suffering from some rather terrible macroblock compression artifacts. the in-engine rendered scenes actually look better than the pre-rendered CG scenes as a result. Having compared the two versions with my own eyes, the PS3 version is indeed the superior, by quite a margin. Sure, the 360 has a slightly smoother frame-rate, but it is running at a significantly lower resolution.
In conclusion, Eurogamer made it quite clear :
"So, occasionally fine, sometimes grim: a statement that effectively sums up how much of Final Fantasy XIII looks on Xbox 360 when compared to the PlayStation 3 game, meaning that if you own both consoles, there really is only one choice when it comes to the purchasing decision."
The thing that has made me chuckle a bit on the inside is that after previous Eurogamer comparisons, they were attacked for being biased and pro 360 – but now that there's one that's decisively in the PS3's favour, they're the paragons of impartiality. Fanboys are a funny sort.
Check out more over at Eurogamer.
Last Updated: March 5, 2010