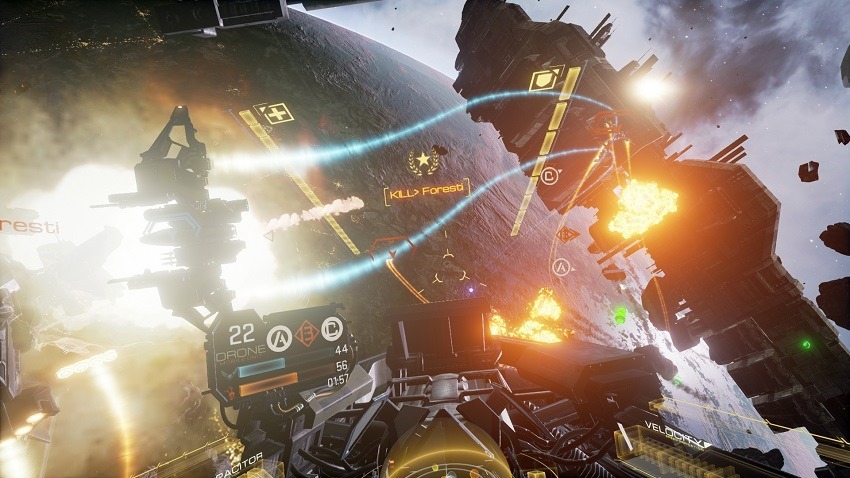 If you happen to have looked into VR headsets at any point, it's likely you saw glimpses of EVE Valkyrie. The EVE Online spin-off developed by CCP was at the forefront of VR marketing, eventually launching on Oculus Rift, HTC Vive and PSVR. But the space flight shooter struggled in the months following launch, eventually prompting a massive shift to regular device support by CCP. But with that move still not panning out, CCP have pumped the brakes on all future VR endeavours.
CCP have announced that it will cease looking into VR projects for the foreseeable future, shutting down two studios and affecting the jobs of over 100 employees. The studio in Atlanta, responsible for another VR title named Sparc, is already closed. The Newcastle office responsible for Valkyrie is up for sale, and will shut its doors very soon. The pivot to allow for regular, non-VR players to enjoy Valkyrie came as a surprise patch earlier in the year, but it was all too little too late.
It's a notable recoil from one of VR's biggest developers, who put out Valkyrie, Gunjack and Sparc in a short space of time. The company also recently seemed excited about the future of their VR projects, which makes the sudden closure of their studios all the more surprising. CCP will now pool all of their focus into EVE Online, which continues to truck along for the large host of dedicated fans it has.
CCP and their departure from VR don't necessarily signal a huge issue for the hardware, but does suggest that pricing still factors in heavily. Valkyrie was sold as a full $60 purchase with very little content to support that, which must have weighed heavily on profits at the end of the day.
Last Updated: October 31, 2017