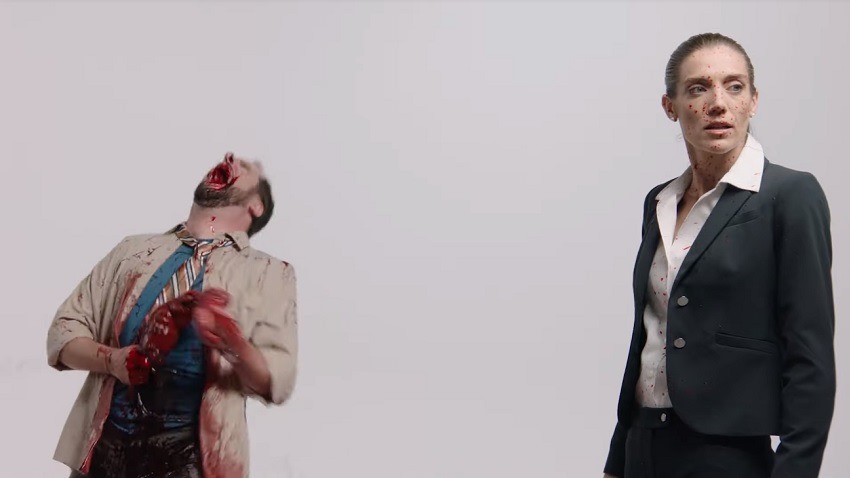 It was E3 2018. Devolver Digital's Nina Struthers had shown the future's future of gaming off when all of a sudden…TRAGEDY! A lone gunman (Who to be fair, had survived Nina's bloodlust from the previous E3 and was kind of owed some measure of revenge) took to the stage and gunned down the beloved presenter of many a fine indie game.
Was this the end of Nina Struthers? Ha! Not on your life, because where there's an annual event to take the piss out of, Nina Struthers will be there. And by god, there will be blood. Here's a quick look at what's coming your way, out of the Devolver Digital gates.
Fall Guys: Ultimate Knockout
From Media Tonic comes this quirky little title that uses the most innovative idea in gaming: Battle Royale! Wait, hold on a moment before you roll your eyes. Yes it's a game where one hundred player-controlled characters duke it out, but this time they're battling over obstacle horses to see who's the last man standing. Which sounds like a neat twist on the genre that every big studio is hopping onto lately.
Devolver Bootleg
If anyone is going to make bootleg Devolver Digital games, it's going to be Devolver themselves, dammit. Up on Steam right now, Devolver Bootleg features the following gems in one cute package:
Enter The Gun Dungeon
Hotline Milwaukee
Ape Out Jr.
Shootyboots
Catsylvania
Luftrousers
Super Absolver Mini: Turbo Fighting Championship (2 Players Only)
PikuBiku Ball Stars (2 Players Only)
Carrion
Ever wanted to be the kind of bad guy that looks like he would be at home in a remake of The Thing except this time all the awesome practical effects had been retained instead of jettisoned for easily dated CGI? Then Carrion might be what you need, weirdo. Billed as a a 2D "reverse horror experience", Carrion is still on its way to PC in 2020.
Enter the Gungeon: House of the Gundead
Enter the Gungeon may be one of the biggest indie darlings of recent memory, and now it's coming back! As a dedicated two-player arcade unit for you to pump tokens into. I kind of want this.
The Messenger: Picnic Panic
Ninjas, picnics and no signs of bears with above-average intelligence. If you own the original Messenger game, this upcoming tropical update will be a free add-on for you come July 11 when it lands on PC and console.
Last Updated: June 10, 2019