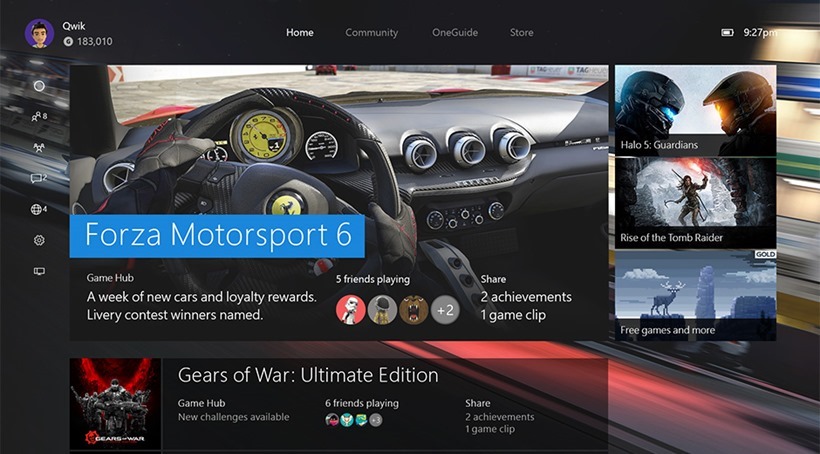 The Xbox One is about to get a lot more appealing this year. Backwards compatibility, more community options and of course, a user interface that doesn't look like a cat litter tray which hasn't been cleaned for several weeks. That's all part of the new Xbox experience that Microsoft is bringing, as they aim to make the console quicker and more responsive.
And more Windows 10-like, I think. Anyway, that will all be seen in November when the update rolls out. Here's a taste of what you can expect, copied and pasted below from the PR:
Xbox 360 games on Xbox One
At launch you'll be able to play over 100 Xbox 360 games on Xbox One with hundreds more in the months to come. This includes the added benefit of Xbox One features including screenshots, streaming, and game DVR – for your favorite Xbox 360 games.

You can even play multiplayer with friends still using their Xbox 360.
New Guide
You can access the Guide from Home by pressing left or double tap the Xbox button on your controller to instantly overlay the Guide.

You can access Friends, quickly start a Party, get to Settings, see System Notifications, view your Messages, and more from Home or without leaving your game. These are the top tasks Xbox fans do most often, so we focused on making them faster and easier to get to without disrupting your game.
Redesigned Home
It's faster and easier to get to the things you love. We're introducing a faster and easier interface to provide access to games and apps you've recently used.

At launch you'll be able to more easily share your achievements and game clips with the Xbox Live community, see whether your friends are playing the same games and get one-click access to Game Hubs to get news and updates directly from the developers and community themselves.
New Community section
Based on your feedback, this section is optimized to help you tap into what other gamers are doing on Xbox Live and directly contribute to the conversation happening within the Xbox Live community.

Check out what your friends are up to or keep track of the games you follow in the redesigned Activity Feed. Explore the new Trending section to view the most popular posts from players on Xbox Live.
Revamped OneGuide
From OneGuide, you can see a list of current trending live TV shows with the most viewers at that moment on Xbox.

TV listings will now come up instantly and in full-screen, and we've added a picture-in-picture mode for TV so you can browse for other things to watch without missing what's happening in your show.

We'll highlight a selection of the most exciting new movies, TV shows and deals from across the apps on Xbox One and the new App Channels area will show you the latest movies, TV shows and videos highlighted by the apps you care about.
Store optimization
To the right of OneGuide, you'll find the new and improved Store with features including four easy to explore areas – Games, Movies & TV, Apps, and Music – and a new vertical gallery view to bring more listings at a glance.

Browse through intuitive categories like Staff Picks, New Releases, Top played, Top rated, Coming Soon and Recommendations to discover new games, apps, and entertainment for your Xbox One.
Preview members will of course see the new dashboard in action a little sooner than most, with Microsoft reserving first dibs for those members who have "historically submitted the most feedback". From that point on, other Preview Members can get in on the action as the update rolls out.
It's been two years since the Xbox One debuted, and it's been a hell of a wait since then for a better UI. In a way, it's reminiscent of the Xbox 360 days, and the "blade" dashboard setup that was eventually done away with. Hopefully the Xbox One update imitates that superb example of redesign.
Hopefully.
Last Updated: September 11, 2015