In my gaming experience, joining the Legion means siding with Sargeras and the Burning Legion, but in this case it's another partnership between Mettlestate and Evetech – this time aimed at Dota 2.
Evetech and Mettlestate brought up the successful Valkyrie Challenge which saw two of South Africa's top female CS:GO teams go head-to-head for R50 000. Both Evetech and Mettlestate have operated in South African esports with a heavy focus on CS:GO, but it's about time to give some love to Dota 2, as explained in their press release.

The Valkyrie Challenge which took place at Evetech. Image via Techgirl. 
"Dota 2 is one of the most popular games in the world, yet we've seen very little local support of the title this year. Evetech and Mettlestate know the SA community is itching for more tournaments, but are also aware of some of the current debates around viewership numbers of SA Esports being low. With all of that in mind, and thanks to some inspiration from South African Dota 2 personality Kaameel Chicktay, it was decided to host an exhibition match to showcase Dota 2 to the general public – while at the same time showcasing Evetech's recent partnership with Lenovo and launching the new Lenovo gaming notebook range in SA."
Joining The Legion, unfortunately, does not mean taking part in a competition, but instead invites aspiring Dota 2 players to join two teams captained by two professional South African Dota 2 players. It's a much-needed venture for the esport which was once at its pinnacle in South Africa but has since fallen off in comparison to other titles. Players who are "still navigating their way" through the game will be able to sign up on the Mettlestate website where eight players will be selected to join Michele "Stickalish" Brondani from Goliath Gaming and Adam "Adastam" Moore from Sinister5 who will captain each team. Players will get a chance to compete in a professional environment and also stand a chance to win some epic prizes.
An exhibition match will take place on the 18th of November live from the Evetech Studio and will be broadcast by rising Dota 2 commentator Kaameel Chicktay and commentary mercenary George "GeeMax" Smith. The pair will add a fresh taste to Dota 2 with Kaameel being the know-it-all knowledge bomber while GeeMax guides the noobs through a game which isn't that easy to understand.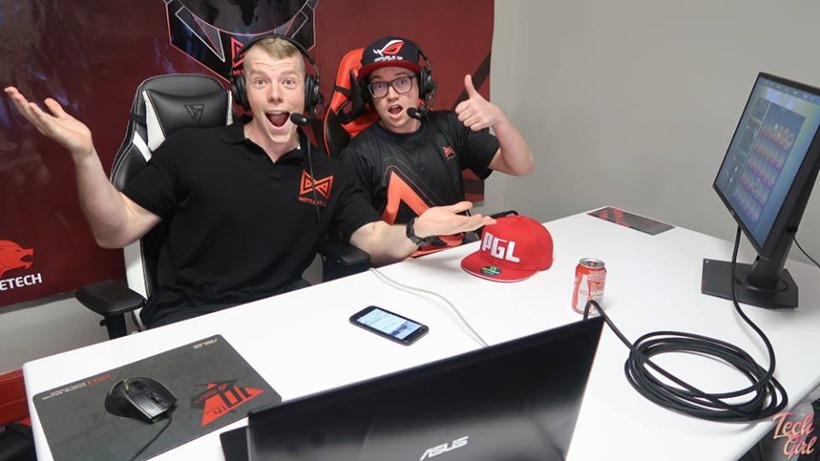 Matthew "Tiny" Lotter (right) and George "GeeMax" Smith (left) at the Evetech Studio.
"This will be a whole new Esports experience. We want you, the newbie to SA Esports, to play in our competition. We want you to have your non-gaming family and friends in the audience where our awesome shoutcasters will not only entertain you, but also educate you on the basics of Dota 2 so that you can learn as we go," says Barry Louzada from Mettlestate.
It's a learning experience for all, states Mettlestate, and it's much more than a rivalry match between two players from two top teams.
To sign up and #JoinTheLegion, head on over to Mettlestate.
Like esports?
Check out esports central
Last Updated: October 31, 2017