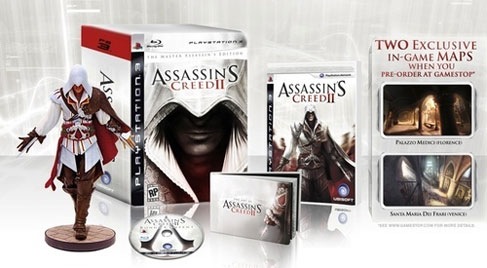 Are you a little upset that we – on account of Gamestop not having local presence – wouldn't be able to get the two exclusive pre-order maps with Assassin's Creed 2? Well don't be!
In a recent interview with Kotaku Patrice Desilets, the game's creative director, has confirmed that you too will be able to search for the secrets of the Palazzo Medici and the Santa Maria Dei Frari (which, to my surprise is not actually a type of pizza – but rather a Venetian church).
"Eventually everyone will have the entire game," said Desilets. "I made sure of that. Because I'm Canadian, I don't have the same shops as you do. So I wanted to make sure I could at least someday play everything in the game. Eventually there's going to be, okay, let's unlock everything."
What he didn't say is whether the content will be free, or a paid for DLC – or even when it'll be available. right now, if you want all the content, be sure to order the rather tempting collector's edition.
Source : Kotaku
Last Updated: September 17, 2009