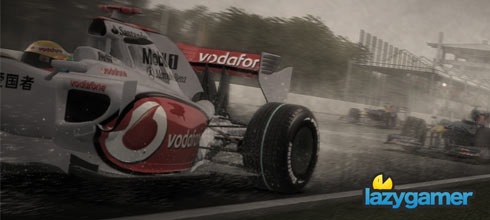 As a petrol-head, F1 fan and overall enthusiast of games that don't suck, I am very happy to see that two early magazine reviews of F1 2010 have rated the game very highly.
When I played the game at E3 this year, I loved it so much that I went back to the booth around 3 – 4 times because I simply couldn't get enough of the fantastic handling and jaw-dropping visuals.
More after the jump.
According to report on CVG, the first review to have its score revealed was that of the Official Playstation Magazine, who liked it so much that they slapped a 9/10 onto the end of their review.
GamesMaster's has also heaped on praise in their review of the game, saying:
"Attending press conferences and interviews, exploring the paddock area and in-team competition between drivers makes [F1 2010] one of the first F1 games to make players feel like a driver rather than a car."

"F1 2010 delivers the finest, most all encompassing F1 racer on console"
They scored the game with a 90% rating as well and even after only playing the game in its race mode, can easily see how they liked it so much. The game honestly just oozes quality in every way.
F1 2010 is the first (and official) Formula One game being developed by Codemasters, who are already known for their work on TOCA Touring Cars, Colin McRae's Rally, Race Driver, GRID and DIRT.
The game releases on September 24 for the PC, Playstation 3 and Xbox 360. I honestly cannot wait any longer.
Last Updated: September 8, 2010