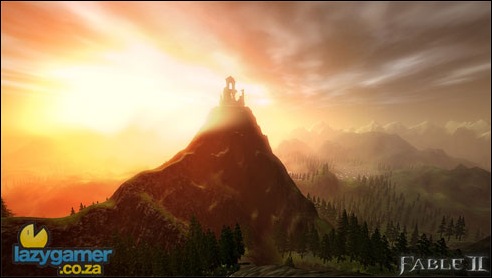 British developers Lionhead have furnished us with new details of the highly anticipated second DLC pack for their highly acclaimed Fable II.
Fable II : See the Future isn't just a fancy title – Playing through the DLC will give you a glimpse of what's in store for the world of Albion and what lies ahead of your assembled hero.
Complimentary to the new items, potions, legendary artifacts and clothing you'll also be treated to new quests and features, details of which are available after the jump.
The Ghosts of the Snowglobe Quest
The cursed, ethereal inhabitants of a once real town are now trapped in a snowglobe model of their former home. It's up to you to free them from their shadowy torment.
The Cursed Knight Quest
The Cursed Knight, banished to a land beyond death needs a hero with both the fortitude of both will and strength to save him from his his fate. Could it be you?
The Colosseum
A new fight arena that mammoths the original crucible., The Colosseum promises to challenge even the most hardy players.
Murgo is back
Murgo, the travelling salesman you meet in your Fable II childhood returns with a new array of magical wares, one of which is a potion that can change the breed of your faithful canine companion. Now I can have the killer mini daschund I've always wanted. GRRrrrrrr.
The "Fable II" "See the Future" game add-on will be available for download exclusively on Xbox LIVE Marketplace in May for 560 MS Points for the premium content package.
Source : Lionhead
Last Updated: April 7, 2009