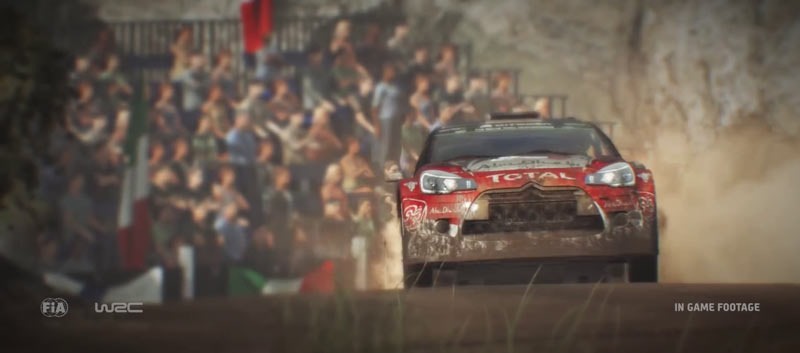 WRC games. They're just like LEGO games if said video games didn't balance the exact same brick by brick gameplay by at least having some charm and effort thrown into making each puzzle unique. I haven't exactly been subtle in my distaste for publisher Big Ben's take on the FIA series, a franchise of rallying that sums up their slate of racing games perfectly: Soulless, devoid of personality and boasting the bare minimum of effort like the flair on Jennifer Aniston's vest at Chotchkies.
And for the love of Gorilla Grodd, a sixth instalment of this flavour of rallying is on the way later this year.
The imaginatively titled WRC 6 is on the way this year, so here's a new trailer which asks you to get extreme and face the danger. I haven't watched it yet, but I'm about to just because I'm hazarding a guess that developer Kylotonn will do what it does best for games from this franchise, which usually involves liberally pinching ideas from whatever it is that Codemasters has produced in the same genre:
Yeah, I think I'll get my kicks from having a Scotsman yell various directions at me from Dirt Rally. Or I'll ask my grandad to tell me how to get to the closest shopping center while making him relive his numerous war stories. WRC 6 will be out on PC, PlayStation 4 and Xbox One in October, with 14 World Rally Championship events that includes the debut of Rally China. All the official WRC drivers and teams from this FIA license and "a wide selection of WRC 2 and Junior WRC drivers" included as well. Although I have a feeling that it's going to be officially boring again.
We'll have a review up later, as soon as I've replaced the number 2 with a 6 from our WRC 2 review.
Last Updated: July 14, 2016