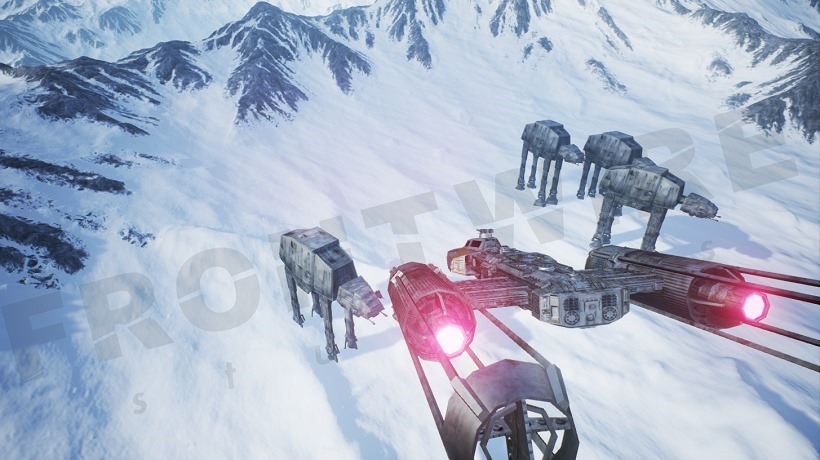 EA and DICE might have reignited the long-lost Battlefront flame last year with their own licensed rebooting of the franchise (which is already getting a sequel next year), but for many die-hard fans there simply wasn't enough to convince them that this was the Battlefront 3 game they had been promised. That game had in fact been in development over at LucasArts before closure, and was pretty close to being done. That's why for months a group of fans have been working to bring it back to life, and Steam is throwing them a life line.
It's utterly surprising, but the Battlefront 3 fan remake, which is now officially named Galaxy in Turmoil, will be hosted on Steam when it eventually launches. Russian developers Frontwire made the announcement over the weekend, stating that the extra exposure the Steam storefront gives will ensure that their works reaches fans in all corners of the galaxy. It also means Disney, the rightful owners of the Star Wars trademark, might take a little more interest.
Frontwire believes that their work has gone on unhindered for so long primarily because they never plan to charge a cent for the game, and feel as though it's the sole reason Steam decided to come on-board. They don't foresee issues with Disney either, although that could change in a heartbeat.
"By Steam agreeing to ship Galaxy in Turmoil we are not only adding more validation and awareness to the project by opening up the game to a whole new audience, we're also cementing Frontwire Studios' reputation as an up and coming developer with the opportunity to now publish our games on Steam in the future."
The game is being built in Unreal Engine 4, and is making extensive use of many of the ideas and assets that were present in the reportedly 99% finished title that LucasArts had to drop overnight. The team also has plans to supplement the release with free content after launch, which is a hell of a lot of dedication for a team doing this purely out of love.
It's still seemingly a while off, but this is certainly a step into legitimacy for the fan-made project. Right now all we Star Wars aficionados can hope for is Disney's good graces.
Last Updated: June 6, 2016