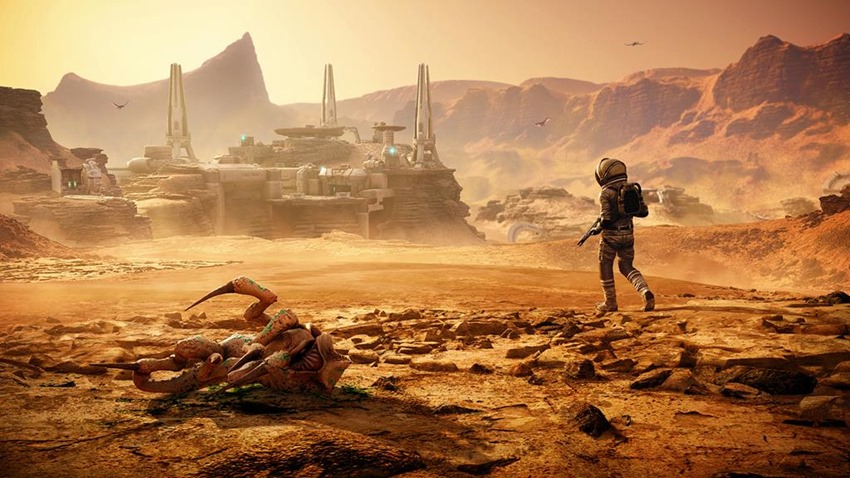 Far Cry 5 is a brilliant game. It's first batch of episodic DLC…less so. Hours of Darkness might have been an interesting scramble through the jungles of Vietnam, but its unorthodx setup did little to hide to really stand out and justify Far Cry 5's season pass. Still, it's the next two chapters that sound infinitely more interesting: One set in a zombie apocalypse and another that takes place across the shifting red sands of Mars.
Here's your first look at Lost on Mars, which arrives on July 17 for Xbox One, PC and PS4:
Lost on Mars transports the franchise's insanity from Hope County to the red planet as Nick Rye is teleported to a hostile planet to help his buddy Hurk thwart an alien invasion of Earth. This adventure gives players a new arsenal of alien weaponry, including the Blaster of Disaster, Hellfire and Morphinator, while also introducing a new transversal tool with Space Jets. Humankind's future is in the hands of the game's most notorious guns-for-hire. Time to squash some bugs!
The only good bug, is a dead bug am I right? In addition to all that zany action, you can also expect plenty of Martian content to be made available in Far Cry Arcade. Fancy yourself an architect of the red planet? Well now is your chance to prove so! "All Far Cry 5 players will have access to new Mars-themed assets in Far Cry Arcade, which is available now," Ubisoft said in a press release.
Map builders will be able to integrate these assets into their existing maps or create new sci-fi-themed maps. Future content will also include thematic assets that will be added to Far Cry Arcade for free. Those who download the Lost on Mars DLC will also gain access to new weapons – Obliteratorrrr, Taser Phazer Annihilazer, Nerve Reaper, Grape Popper and Hellfire – to use as they liberate Hope County from the Project at Eden's Gate.
Right, time to get those skull-faced buggers back for what they did to our planet in Mars Attacks. And this time, I'm going to use something almost as bad as Slim Whitman albums at a high volume.
Last Updated: July 10, 2018