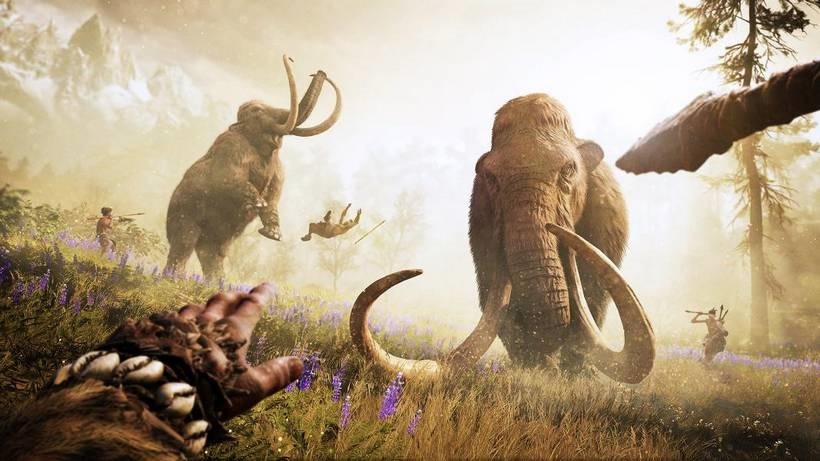 I really liked Far Cry Primal, Ubisoft's open-world caveman simulator. Yes, it does feature many of the tried-and-tested tenets of the Ubiformula, but the mechanics that were transplanted from previous Far Cry games just made so much more sense. I can buy a rugged caveman hunting wild animals and skinning them, fashioning new tools, weapons and gear from their innards. A part-revelling fratboy doing the same? Not so much.
Though the main story amounted to nothing, there's was something quite engrossing about surviving the wild, wild lands of Oros. A post-release patch that removed the game's HUD made it even better. And now? Now it's getting a free content update to add a survival mode.
That sort of hardcore experience seems to be all the rage these days – with Bethesda's open-world RPG getting its own increased difficulty. Far Cry Primal's survivor mode is coming to all platforms on April 12. Here's how it works.
As you might expect, it features Permadeath. Die just once, and it's game over. If you're not quite up for that challenge, there's a secondary mode that'll give you one extra life that tops up at specific checkpoints. It's not the only change.
Takkar will now also have a stamina gauge – so he'll get weaker and less able until he rests. While Far Cry Primal will still feature fast travel (unlike Fallout 4), it will consume stamina and food resources, which you'll have to keep topped up. Takkar will also face fewer animals and humans on his expeditions – which means that every resource is precious.
One of the biggest changes is in how your beast mastery works. "The beasts you're going to control are going to get less powerful," says Thomas Simon, Far Cry Primal's game director. "The most powerful beasts you control, like sabretooths and bears, will not let themselves be tamed so easily. You're going to have to fight them up to the moment that they are at half-life, then bait them and tame them."
And once your tamed animals die? Well, they're dead. You do get the opportunity to save them by feeding them before they perish but if your furry friends succumb to their injuries, they're gone.
Survivor mode will be available as a free patch for PlayStation 4, Xbox One, and PC on April 12, and the PC patch will also add 4K textures to the game – for the 4 of you with the requisite hardware.
Last Updated: March 31, 2016